Privacy Information

Discounts: Make bigger savings the more you buy. Savings are applied automatically in your basket.
The Metal Store - Privacy Policy and Cookie Policy
Last updated: June 30th 2023
This Privacy Policy describes the personal data collected or processed when you interact with The Metal Store through our website, mobile application or trade counter, all of which are part of The Metal Store's overall network.
It also explains how your personal data is used, shared and protected, what choices you have relating to your personal data and how you can contact us.
The Metal Store shall be referred to as"The Metal Store", "our", "we" or "us" in this Privacy Policy.
WHAT personal data do we collect and WHEN?
We ask you for certain personal data to provide you with the products or services you request. For example, when you make purchases, contact our consumer services, wish to create an account or visit us at our trade counter to place, collect or obtain support with an order.
This personal data includes:
Your contact information including email address, billing address, delivery address, name, mobile and landline numbers
Any additional information requested beyond the above, when you make a telephone order or complete forms on our website
Payment card information
Login and account information including email address, encrypted password, company name
Demographic information such as postcode, preferences and interests
Other information relevant to customer surveys and/or offers
Personal preferences including your email, marketing and cookie preferences
When visiting or interacting with our website or mobile application, we may automatically collect certain types of data from your device or web browser.
This data includes:
IP address (these are only retained in web server logs for one month for security and diagnostic purposes).
Anonymised IP address
Browser information (e.g. web browser, web browser version)
Mobile device information (e.g. device identifier, mobile operating system)
Referring site or application
Tags and interactions with our website (e.g. content viewed)
These tools use 'cookies', which are text files placed on your computer, to collect standard internet log information and visitor behaviour information in an anonymous form. This information is then used to evaluate visitors' use of the website and to compile statistical reports on website activity. More information about these practices is included in the "How we use cookies" section of this Privacy Policy below.
If you contact us we may also keep a record of the correspondence we have with you in our customer management system.
WHY and HOW do we use your personal data?
We may use and process your personal data on legal grounds, for completing our contractual obligation to you, or on grounds of legitimate interest, or where we have your consent to do so.
Details of exactly why and how we use your personal data on these grounds is as follows:
To provide you with products / services and fulfil your requests
When you use our website, mobile application or visit us at our trade counter to place an order, we will use your personal data on the grounds of entering into a contract and fulfilling our contractual obligations to you.
We will use your personal data for the purposes of:
Providing you with the requested product or service
To identify you for communication purposes in relation to the requested product or service
To communicate either for sales or invoicing
For example, if you make a purchase on our website, we will use the contact information you give us to communicate with you about the purchase. If you subsequently contact our customer service team with a query about your order, we will use information about you, such as delivery or payment information, or the product you have purchased, to help you resolve a problem or question.
To communicate information about our products and services, and for other promotional purposes
On the grounds of legitimate interest or where we have your consent, we may send you marketing communications and news concerning our products, services and other promotions that may be of interest to you.
Marketing texts and emails
If you are an existing customer of The Metal Store (for example, if you have placed an order with us), we may use the contact details you provided to send you marketing communications about similar The Metal Store products or services (unless you have opted-out) that we believe to be of interest to you.
Personalisation
In order to personalise these communications and share information about products or services that may be interesting to you, we may combine information that you provide to us with information that we create about your online activity, including internal insights and analysis.
As long as you have not informed us otherwise, we consider offering you products/services that are similar or the same to your purchasing history/browsing behaviour to be in our legitimate interest. You can choose to opt-out of these communications at any time.
To operate, improve and maintain our business, products and services
We use the personal data you provide to us to operate our business on the grounds of legitimate interest.
When you make a purchase, we use that information for accounting, audits and other internal functions. After the purchase, we may also use your data to help us diagnose and fix a technical or service related problem.
We may send you market research requests or requests for feedback on how you found our products and services (which you can opt out of via the email). These help us to understand how we can improve our products and services to better serve your needs.
To protect our or others' rights, property or safety
We may disclose your personal information to any member of our group, which means our subsidiaries, our ultimate holding company and its subsidiaries, as defined in section 736 of the UK Companies Act 1985.
The only time we would disclose any information to third parties is:
If we are under a duty to disclose or share your personal data to comply with a legal obligation, to protect our rights, property or safety of our staff and our customers or to share information for the purposes of fraud protection or credit risk reduction.
We are committed to ensuring that your information is secure. In order to prevent unauthorised access or disclosure we have put in place suitable physical, electronic and managerial procedures to safeguard and secure the information we collect online. We never sell any information to third parties. We only disclose information to third parties should there be a legal requirement. At present this is DX Delivery and DPD to facilitate delivery in order to fulfil our contract to you.
WHO do we share our data with
Personal data about you is, in some cases, provided to our trusted partners in order to either make providing the service to you possible or to enhance your customer experience:
The Metal Store entities for the purposes and under the conditions outlined above.
Service providers processing personal data on The Metal Store's behalf, for example to process credit cards and payments (Stripe, Handepay, PayPal, Amazon Pay), shipping and deliveries (DX, DPD), host, manage and service our data, distribute emails (Mailgun), research and analytics (Google Analytics, Smartlook), other website services (Tawk.to) and provide marketing assistance. These third parties have access to the personal information needed to perform their functions, but may not access it or use it for any other purposes.
Other third parties to the extent necessary to: (i) comply with a government request, a court order or applicable law; (ii) prevent illegal uses of our website or violations of our websites terms and conditions; (iii) defend ourselves against third party claims; and (iv) assist in credit checking, fraud prevention or investigation (e.g., counterfeiting).
Third-party targeted advertising providers that provide personalised advertising services to us. We use such services to match hashed data or aggregated information that we hold with personal data in their database to create custom audiences and tailor advertising to your interests, including Google Ads and social media advertising through platforms such as Facebook and LinkedIn.
External Links
You should be aware that other websites that are linked from The Metal Store website or mobile app may contain privacy provisions that differ from the provisions of this policy. To ensure your privacy is protected, we recommend that you review the privacy statements of these other linked sites, applications, or other digital platforms.
YOUR RIGHTS in relation to your personal data
You have the right to request access to the following:
Access to your personal data
An electronic copy of your personal data and to have this transmitted to another company
Correction of your personal data if it is incomplete or inaccurate
Deletion or restriction of your personal data in certain circumstances provided by applicable law
Where we have obtained consent for the processing of your personal data, you have the right to withdraw your data at any time.
We will never sell, distribute or lease your personal information to third parties. If you would like to request a copy of your personal data or exercise any other rights, please write to The Metal Store, Brook Mill, Hightown Road, Cleckheaton, West Yorkshire, BD19 5JS.
Opting out of direct marketing
You can opt-out of receiving The Metal Store's marketing communications, you can unsubscribe from email marketing without signing in at www.themetalstore.co.uk
You can also contact us on [email protected] with a request to be unsubscribed from the mailing list.
Alternatively, you can also opt-out of receiving email communications by clicking on the unsubscribe link included in the email.
How we use COOKIES
A cookie is a small file containing information that is placed on your computer's hard drive. It is sent back to websites when you visit a new page or return at a later date. Cookies enable websites to do things such as remember if you're logged in, remember the contents of your basket, or track your visiting activity.
There are generally three categories of cookies used on our website and mobile application:
Functional: These cookies are required for basic site functionality and are therefore always enabled. These include cookies that allow you to be remembered as you explore our website or mobile application within a single session or from session to session. They help make the basket and checkout process possible as well as assist in security issues and conforming to regulations.
Analytical: These cookies allow us to review the performance of our website through basic, analytical information on which web pages are being used and how long for in a session. We only use this information for statistical analysis purposes. Overall, these cookies help us provide you with a better website, by enabling us to monitor which pages you find useful and which you do not. This information is shared with and gathered in Google Analytics. None of the information we share is personally identifiable and in no way gives us access to your computer or any information about you, other than the data you choose to share with us.
Advertising: These cookies are used to deliver advertisements that are relevant to you and to your interests. In addition, they are used to limit the number of times you see an advertisement. They are usually placed on the website by advertising networks with the website operator's permission. These cookies remember that you have visited a website and this information is shared with other organisations such as advertisers (Google, Facebook, LinkedIn). Often targeting or advertising cookies will be linked to site functionality provided by the other organisation.
Third parties may also collect information through cookies via our website such as third party plug-ins and widgets (e.g. Tawk.to). These third parties collect data directly from your web browser and the processing of this data is subject to their own privacy policies.
For a comprehensive and up-to-date summary of every third-party accessing your web browser (through The Metal Store Platform or otherwise), we recommend installing a web browser plugin built for this purpose. You can also choose to have your computer warn you each time a cookie is being sent, or you can choose to turn off all cookies. You do this through your browser settings on each browser and device that you use. Each browser is a little different, so look at your browser Help menu to learn the correct way to modify your cookies. If you turn cookies off, you may not have access to all of the features / functionality on the websites you visit. There are also general resources for opting out of interest-based advertising available on the website of the Digital Advertising Alliance.
Similarly, you can adjust your advertising preferences on your mobile device at the device level. For example, to adjust your advertising preferences in iOS, visit Settings > Privacy > Advertising > Limit Ad Tracking. To adjust your advertising preferences in Android, visit Settings > Google > Ads > Opt out of interest-based ads.
Cookies used on our website
The Metal Store
| Cookie Name | Type | Duration | Purpose |
| --- | --- | --- | --- |
| _zmey_session | first party | session | Provides essential website functions (login, basket, etc.) |
| cookieConsent | first party | session | Remembers that you've dismissed the cookie banner |
Google
| | | | |
| --- | --- | --- | --- |
| NID | third party | 6 months | Stores your Google search preferences |
| _Secure-1PAPISID | third party | 23 months | Used for targeting purposes to build a profile of the website visitor's interests in order to show relevant & personalised Google advertising |
| SSID | third party | 23 months | Used to store information about how you use the website and any advertising that you may have seen before visiting this website, in addition to being used to help customise advertising on Google properties by remembering your most recent searches, your previous interactions with an advertiser's ads or search results and you visits to an advertisers website |
| HSID | third party | 23 months | Used for security purposes to store digitally signed and encrypted records of a user's Google account ID and most recent sign-in time which allows Google to authenticate users, prevent fraudulent use of login credentials, and protect user data from unauthorised parties. This can also be used for targeting purposes to show relevant & personalised ad content |
| _Secure-1PSID | third party | 24 months | Used for targeting purposes to build a profile of the website visitor's interests in order to show relevant & personalised Google advertising |
| SAPISID | third party | 24 months | Used for targeting purposes to build a profile of the website visitor's interests in order to show relevant & personalised Google advertising |
| _Secure-3PAPISID | third party | 23 months | Used for targeting purposes to build a profile of the website visitor's interests in order to show relevant & personalised Google advertising |
| SEARCH_SAMESITE | third party | 2 months | This cookie is used to prevent the browser from sending this cookie along with cross-site requests |
| SIDCC | third party | 12 months | Used to store information about how you use the website and any advertising that you may have seen before visiting this website, in addition to being used to help customise advertising on Google properties by remembering your most recent searches, your previous interactions with an advertiser's ads or search results and you visits to an advertisers website |
| _Secure-3PSID | third party | 24 months | Used for targeting purposes to build a profile of the website visitor's interests in order to show relevant & personalised Google advertising |
| _Secure-1PSID | third party | 24 months | Used for targeting purposes to build a profile of the website visitor's interests in order to show relevant & personalised Google advertising |
| SID | third party | 24 months | Google sign-in details (if you are signed into a Google account) |
| APISID | third party | 23 months | Used for targeting purposes to build a profile of the website visitor's interests in order to show relevant & personalised Google advertising |
| _Secure-3PSIDCC | third party | 12 months | Used for targeting purposes to build a profile of the website visitor's interests in order to show relevant & personalised Google advertising |
| AEC | third party | 4 months | |
| CONSENT | third party | 20 months | Used to store Google Network advertising preferences for use in targeted advertising |
| _Secure-ENID | third party | 12 months | |
Google Analytics
| Cookie Name | Type | Duration | Purpose |
| --- | --- | --- | --- |
| _ga | first party | 24 months | Client ID which allows Google to recognise repeat visits from the same browser |
| _gid | first party | 24 hours | Used to distinguish users |
| _gat | first party | 1 minute | Used to throttle request rate |
Google Customer Reviews Badge
| Cookie | Type | Duration | Purpose |
| --- | --- | --- | --- |
| OTZ | third party | 1 month | Google APIS cookie |
LinkedIn
| Cookie | Type | Duration | Purpose |
| --- | --- | --- | --- |
| bcookie | third party | 21 months | Browser Identifier cookie to uniquely identify devices accessing LinkedIn to detect abuse on the platform |
| lidc | third party | 24 hours | To facilitate data centre selection |
Smartlook
| Cookie | Type | Duration | Purpose |
| --- | --- | --- | --- |
| SL_C_xxxx_SID | first party | 24 months | Provides session recording functionality |
Tawk.to
| Cookie | Type | Duration | Purpose |
| --- | --- | --- | --- |
| TawkConnectionTime | third party | session | Enables live chat functionality |
| TawkCookie | third party | session | Enables live chat functionality |
| Tawk_xxxx | third party | 6.5 months | Allows Tawk.to to recognise repeat visits from the same browser |
| Twk_idm_key | first party | session | Enables Tawk.to to recognise when the same user is operating live chat using multiple tabs |
Stripe
| Cookie | Type | Duration | Purpose |
| --- | --- | --- | --- |
| _stripe_sid | first party | 30 minutes | Functional cookies for fraud prevention |
| _stripe_mid | first party | 12 months | Functional cookies for fraud prevention |
Amazon Pay
| Cookie | Type | Duration | Purpose |
| --- | --- | --- | --- |
| Apay-sess-set | first party | 12 months | Enables Amazon Pay functionality |
Matomo
| Cookie | Type | Duration | Purpose |
| --- | --- | --- | --- |
| _pk_id | first party | 9 months | Analytical cookies to enable Matomo to recognise users |
| _pk_ses | first party | 30 minutes | Analytical cookies to enable Matomo to calculate session data |
CHANGES to our Privacy Policy
Applicable law and our practices can evolve and change over time. If we decide to update our Privacy Policy, we will post the changes on our website on this page. If we materially change the way in which we process your personal data, we will provide you with prior notice, or where legally required, request your consent prior to implementing such changes.
We strongly encourage you to read our Privacy Policy and keep yourself informed of our practices. This Privacy Policy was last modified in April 2022.
QUESTIONS and feedback
If you have any questions or comments about this Privacy Policy, or you would like us to update information we have about you or your preferences, please contact us by email at:[email protected]
You may also write to us at:
The Metal Store
Brook Mill
Hightown Road
Cleckheaton
West Yorkshire
BD19 5JS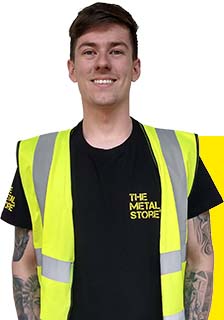 If you're not sure what you need,
then we're just a call away