Click and Collect

Discounts: Make bigger savings the more you buy. Savings are applied automatically in your basket.
We now offer a CLICK & COLLECT only service from our Cleckheaton store. Please check our opening times and social distancing measures on our COVID-19 page
All orders must be placed online or over the telephone prior to collection, you are now required to select a date you would like to collect on. Orders will not be ready to collect prior to this date, if you are unable to come on the date you have selected please telephone to rearrange. Sorry, but we are unable to take orders at the counter or change/add to orders or offer any advice.
Once your order is ready to collect we will email and text you to let you know it is ready. So we can locate your order please bring a copy of the order or text as this contains your order number.
When your order is ready, please come to the trade counter/reception. To comply with 1 metre + social distancing regulations we can only allow one person at a time in the reception area. Please remember to bring a face mask as you will be required to wear one. Hand sanitiser will be available on arrival. Once your order number has been verified you will be directed to your collection point.
Our trade counter is situated in our head office which is located next to the fire station in Cleckheaton West Yorkshire, just 1.5miles from junction 26 on the M62.
Brook Mill
Hightown Road
Cleckheaton
West Yorkshire
BD19 5JS
Due to their nature, some of our products can be heavy and long so please make sure that you are happy that the means of transporting your order is safe, legal and that you can carry the items safely and securely.
Don't want to collect? Check out our delivery options. Click here:
DELIVERY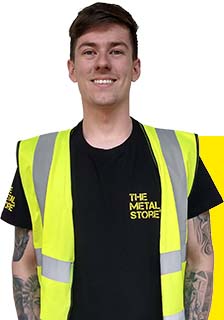 If you're not sure what you need,
then we're just a call away