Stainless Steel
Stainless Steel

UK Stockist & Supplier
Discounts: Make bigger savings the more you buy. Savings are applied automatically in your basket.
Save time and let our expert team put together your quotation for FREE.
Get a FREE Quote
Leading stainless steel suppliers near you
At The Metal Store, we stock and supply an extensive range of high-quality stainless steel products with a first class UK service. As leading suppliers, we offer top-quality stainless steel angle, box section, flat bar and tube with unlimited free cutting, bulk discounts on large orders and fast delivery within 1-2 days.
Our stainless steel products
Stainless steel has a wide variety of uses, from construction to food preparation. It's a name applied to a group of iron alloys, containing 10.5% chromium, which reacts with the oxygen in the atmosphere to create a thin, protective layer on the surface of the steel. The chromium also gives stainless steel very good anti-corrosion and heat resistant properties, making it a very versatile material.
Our stainless steel products are available in three different grades, depending on their intended application. Grade 304 is the most common, easy to weld, has good forming properties and corrosion resistance. For tougher environments such as exposure to salt water or heavily industrialised areas, we recommend grade 316, which has superior corrosion resistance. This grade has good weldability but is harder to machine than grade 304. Finally, grade 303 is ideal for machining. Although unsuitable for welding, it's easier to cut and drill than other grades.
Matching its wide range of uses, we offer a diverse range of stainless steel products in a variety of grades and sizes, suitable for all regular applications.
Buy stainless steel online with ease
The Metal Store's extensive range of stainless steel supplies are on hand to meet your requirements. As well as a range of sizes, we offer free unlimited cutting with all purchases of stainless steel products. Using the latest technology, the steel is cut using a band saw to ensure the highest cutting performance, precision and repeatability.
Ordering is simple. Simply select your products, checkout, then enjoy fast UK delivery. Or if you have any questions, get in touch with our team on 01274 875479 or [email protected].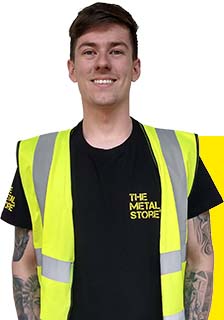 If you're not sure what you need,
then we're just a call away