Mild Steel Angle Iron
Mild Steel

Angle Iron

UK Stockist & Supplier
Discounts: Make bigger savings the more you buy. Savings are applied automatically in your basket.
Save time and let our expert team put together your quotation for FREE.
Get a FREE Quote
100% FREE
custom cutting – no hidden costs
Mild steel angle iron suppliers in the UK
If you want the best steel products and bespoke customer service, you are in the right place. At The Metal Store, we can deliver high-range mild steel angle iron to your doorstep in just a matter of days.
We're here to help, whatever your requirements. Thanks to our unlimited free cutting service, you can order mild steel angle iron ranging in lengths and dimensions. We can even customise the angles according to your needs — whether it's equal or unequal, we'll get it done.
Mild steel angle iron in EN 10025 grade S275JR
A mild steel angle iron is a length of steel or iron that's shaped and bent at a right angle. It's a common item used in the construction industry and is a great metal for making frames, semi-permanent structures and racks.
Due to its low carbon content and good impact resistance, S275JR grade steel is among the most popular types of mild steel angle iron. Suitable for welding, riveting and bolted connections, S275JR grade steel is often used in rail and bridge construction and in forklift manufacturing.
A wide range of dimensions plus unlimited free cutting
No matter what size angle iron you're searching for, we have plenty to choose from. We supply mild steel angle irons with thicknesses ranging from 3mm to 10mm, widths from 13mm to 50mm and lengths in 1.5, 3 and 6 metres.
Don't worry if those aren't quite the dimensions you're after. With our free cutting service, your order will be just what your project requires. Thanks to our high-spec band saws, we can offer identically cut mild steel angle iron in a size of your choice. Just give us a heads-up when you make your order, and we will take care of it.
Want more information on our mild steel angle iron stock?
To enquire about our mild steel angle iron services, call us today on 01274 875479 or email us at [email protected]. One of our expert advisors will answer swiftly and help you with any further questions you might have.
If you're ready to order, you can complete your order online with ease. As dedicated mild steel angle iron suppliers, we aim to make online ordering as quick and easy as possible. Simply choose your products and leave us a note if you have any specific alterations when you click through to your basket. We provide free delivery to England and Wales on all orders over £70 + VAT, with thresholds of £145 (excluding VAT) for Central Scotland and £160 (excluding VAT) for the Highlands.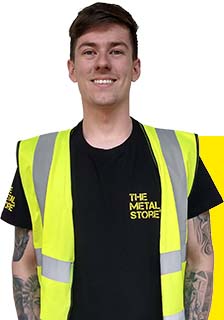 If you're not sure what you need,
then we're just a call away