Aluminium 5 Bar Tread Plate (Checkerplate)
aluminium

5 bar tread plate

(Checkerplate) UK Stockist & Supplier
Discounts: Make bigger savings the more you buy. Savings are applied automatically in your basket.
Save time and let our expert team put together your quotation for FREE.
Get a FREE Quote
High-quality aluminium 5 bar tread checker plate stockist in the UK
Looking for high-strength aluminium 5 bar tread plate for your project? We have you covered, with aluminium 5 bar tread checker plate in a variety of dimensions, as well as thicknesses ranging from 1.5mm to 4.5mm.
Want to attach your tread plate directly with screws? No problem. We can add fixing holes to 1mm, 2mm and 3mm thick aluminium 5 bar tread plate. These will consist of four holes, one in each corner of the tread plate. If you require this service, all you need to do is add 'fixing holes' to your shopping cart. It's as simple as that.
What grade aluminium 5 bar tread plate do you stock?
Our aluminium 5 bar tread plate is supplied in grade 5754. As a high strength aluminium alloy, this grade is tough, good for welding, and is very corrosion resistant, making it a standout choice for flooring applications.
It's easy to clean, features good slip resistance, and also has a decorative industrial appearance. It can also be used for door kick plates, door cladding, access ramp covering for wheelchairs, and stair treads.
Buy aluminium 5 bar tread plate online
If you need your aluminium 5 bar tread plate to be a specific length for your project, we can cut your tread plate down to the perfect length. Best of all, this service is completely free to all our customers!
Orders over £1,000 (ex VAT) will receive a 5% discount. Ordering over £2,000 (ex VAT)? You'll get an amazing 10% off your purchase. Plus, you don't have to waste time applying your discount, because they're all added automatically at the checkout.
If you order over £70 and your delivery address is in mainland England or Wales, you'll receive free delivery too. This also applies to orders over £145 in Central Scotland and £160 in the Scottish Highlands.
Ready to buy high-quality aluminium 5 bar tread checker plate? You can order online via our website, or by emailing us on [email protected]. Alternatively, you can give our sales team a call on 01274 875479.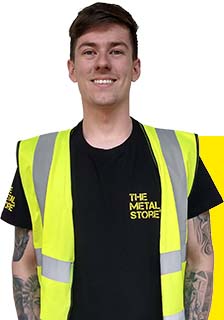 If you're not sure what you need,
then we're just a call away