Mild Steel
Mild Steel

UK Stockist & Supplier
Discounts: Make bigger savings the more you buy. Savings are applied automatically in your basket.
Save time and let our expert team put together your quotation for FREE.
Get a FREE Quote
Trusted mild steel suppliers near you
The Metal Store is a leading, UK-based stockist and supplier of high-quality mild steel products that can be delivered across the country in 1-3 days. But we're much more than one of the country's top mild steel suppliers. Because we pride ourselves on helping our customers, we offer a free unlimited cutting service and bulk discounts on large orders.
All orders over £70 + VAT in mainland England and Wales qualify for free delivery. For central Scotland, it's £145 and £160 for the Scottish Highlands. Our comprehensive product range includes angle irons, box sections, flat bars and more.
Our mild steel products
Mild steel is a malleable, weldable and more ductile material than many other metals. However, it's also strong, pliable and has a high resistance to breaking under tension. Mild steel is magnetic thanks to its high iron and ferrite content.
Due to its affordability, it's a popular building material used in frames, furniture, machinery parts, semi-permanent structures, gating and fencing. While you can use galvanising spray for touch-ups and covering chips, it can corrode if not properly primed and painted.
We offer a range of mild steel grade products and grades, depending on your project's requirements. For example, EN 1.0301 has excellent weldability and is typically used in automotive equipment, appliances and furniture. On the other hand. EN1.1121 has high ductility so it can hold its shape and is pliable when being drilled or cut.
Our supply of mild steel products include:
Buy top-quality mild steel products online
The Metal Store is equipped to handle our customers' specifications through our large range of mild steel supplies. As well as a robust catalogue of stock, we provide an unlimited free cutting service on the majority of our mild steel range.
We use the latest technology to ensure the highest quality in cutting performance, which allows precision and repeatability for your mild steel products. Making an order is straightforward too – simply choose your products on our website, go to the checkout and benefit from fast UK delivery.
If you have any further questions about our mild steel range, give our team a call on 01274 875479 or email us at [email protected].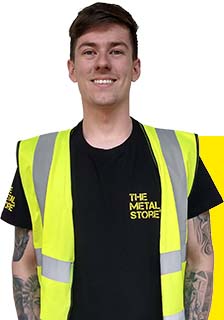 If you're not sure what you need,
then we're just a call away