Tube Clamps (Interclamp)
Interclamp Tube Clamps

UK Stockist & Supplier
Discounts: Make bigger savings the more you buy. Savings are applied automatically in your basket.
The Metal Store can quote you for your galvanised tube, tube clamp and handrail requirements, for FREE. If you need a quote for a handrail, bespoke clothing rail, shelving unit or your own tube clamp project we can help.
We supply genuine Interclamp® products. See our Interclamp information page. The Interclamp product we supply are an alternative to the Kee Klamp range.
Save time and let our expert team put together your quotation for FREE.
Get a FREE Quote
Interclamp fittings from tube clamp experts
The Metal Store have everything you need to get your project moving with a range of genuine Interclamp® tube clamps. Order our premium collection online with 1-3 day delivery or check out our Q Clamp range for a budget-friendly alternative.
Galvanised tube clamps from Interclamp
All Interclamp fittings have been double hot-dip galvanised to provide enhanced corrosion resistance. This added protection, along with their polished appearance makes Interclamp perfect for creating structures in any environment.
Interclamp fittings can be paired with galvanised, stainless steel or aluminium tube depending on the desired finish. Whatever you're looking to create, these fittings are perfect for the creation of industrial-effect indoor structures, or outdoor tasks such as handrails or queue management systems. If you're looking for a simpler solution, our range of handrail kits will make planning and installation even easier.
Interclamp tube clamps integrate perfectly with Kee Klamp systems, so you can upgrade your existing metalwork. Every piece in the range comes supplied with grub screws, and you can take advantage of our extensive range for any additional fixtures or fittings you may need.
Check out our range of Interclamp fittings
At The Metal Store, we stock a full selection of Interclamp fittings to work perfectly with 26.9mm, 33.7mm, 42.4mm and 48.3mm steel tube sizes. This alignment makes connecting tubes and creating vast frames super quick and simple.
We also stock a wide range of different tube clamp fittings, covering everything from short tee, long tee, wall plates and base plates to specialist clamps for specific requirements.
The standard fit and build process also ensures there's no need for complex tooling or welding. Whether you need a robust handrail system for a warehouse environment extremely rugged handrails for harsh environment or more decorative framework for use in home furnishings, our Interclamp fittings can help.
Although these high-end galvanised clamps provide an elevated aesthetic to your builds, constructing the frameworks couldn't be simpler. Each order comes with an Allen key and the fittings come with relevant fixings, meaning there's no tooling or welding necessary.
Get your Interclamp tube clamps online today
Know what you're after? Get started on your job today with online purchase available across the Interclamp range. We offer a fast 1-3 day delivery as standard, with most of our fittings being delivered next day. Plus, you can enjoy free delivery on all orders over £70 to England, Wales and Central Scotland or £160 to the Highlands.
For more information on how our collection of Interclamp UK tube clamps can assist on your project, our team is available over the phone on 01274 875479 or by email on [email protected].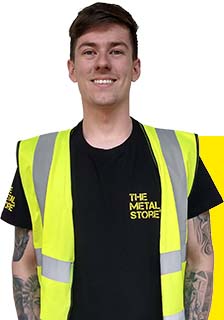 If you're not sure what you need,
then we're just a call away