Galvanised Steel
Galvanised

Mild Steel

UK Stockist & Supplier
Discounts: Make bigger savings the more you buy. Savings are applied automatically in your basket.
Save time and let our expert team put together your quotation for FREE.
Get a FREE Quote
Your top-rate galvanised mild steel suppliers
Are you in need of galvanised steel? The Metal Store are leading suppliers of a range of galvanised mild steel products such as galvanised sheet, angle, box section, tube, flat bar, U section, grating, weld mesh and perforated sheet.
We ship across the UK within 1-3 days, offer unlimited free cutting on many of our products and have bulk discounts on offer for larger orders. Put simply, we are committed to delivering a fast and reliable service for our customers.
Our galvanised steel range
Galvanised mild steel is used in most external applications such as sheds, panels, vehicles, outdoor structures and in a range of industries including agriculture, solar and construction. It's durability, cost-effectiveness and long-term corrosion protection means it's a great metal choice for having a low environmental impact.
Our galvanised steel products have been hot-dip galvanised in a zinc coating, which provides protection to the mild steel. This process involves the steel being dipped in a 450-degree molten zinc bath, making it more corrosion resistant to rusting than ordinary steel. As a result, galvanised steel is great for outdoor use as it can withstand the elements, giving it a longer life expectancy.
We offer galvanised mild steel in numerous grades, all of which are hot dipped to EN ISO1461. The effectiveness of the zinc coating may decrease over time, meaning rusting is inevitable due to exposure to the weather over a period of decades. Here's what's on offer:
Purchase galvanised mild steel with ease
As a leading galvanised steel supplier, The Metal Store is ready and waiting to help with your order. Our galvanised mild steel products are available in a range of thicknesses and lengths. We also offer unlimited cutting on many of our products, so you can have the lengths cut to suit your exact requirements.
Order galvanised steel through our website or call our sales team on 01274 875479 who are on hand to help.
Please note that the galvanised mild steel may have a small hole in either end which enables the section to be dipped in the galvanising tank. Lead time for delivery of galvanised products may be longer than our usual standard delivery time of 1-3 days.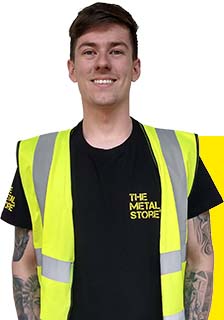 If you're not sure what you need,
then we're just a call away