Scaffolding Tube
Discounts: Make bigger savings the more you buy. Savings are applied automatically in your basket.
The Metal Store is one of the leading online suppliers of scaffolding tube in the UK.
What are scaffolding tubes and what are they used for?
Scaffold tubes, often referred to as scaffolding pipes and poles, are made of lengths of galvanised steel tube. Due to being cost-effective, strong and secure, scaffolding tubes are ideal for creating support structures in construction work.
The use of scaffold tubes is crucial when workers are required to be raised and supported on a temporary platform. Reasons for this could be the construction, renovation or repair on a building or piece of machinery.
Various structures can be built using scaffolding tubes. A few examples of these include single, doubled, cantilever and trestle scaffolding supports. These structures, and many more, can be achieved using standard steel scaffolding tube when used with the correct fittings.
Why create your structures using scaffold tubes?
Scaffold poles can be assembled and dismantled with ease and are simple to set up. When set up correctly, the scaffolding itself will not move or sway, creating a secure space that can be trusted.
Scaffolding tubes are highly resistant to strong winds and rain, remaining undamaged in the harshest weather conditions, allowing for safe and productive work to continue.
Our range of scaffolding tubes
Our scaffold pipes are made using quality sourced galvanised steel, ideal for all heavy-duty construction.
We provide a wide variety of different sized scaffold tubes, varying in a selection of lengths and thicknesses ranging from 5ft to 21ft (we can customize this length to any size for you) and available with either a 3.2mm or 4mm wall thickness. With so many to choose from, you have the ability to create a scaffolding structure that suits your exact requirements.
All scaffolding tubes we supply have an outside diameter of 48.3mm.
Scaffold tubes that meet the safety regulations
Depending on what type of project you need your scaffold tubes for; either a short site job or an ongoing project, our scaffolding tubes will do the trick.
All our scaffolding tubes are manufactured in the United Arab Emirates in accordance with all British standards, meaning they're of the highest quality.
Our 4mm wall conforms to EN39 and our 3.2mm wall conforms to EN-10219 Grade: S355J0H.
For added safety you can also help to avoid accidents with our extra visibility, padded sleeves for your scaffolding tube.
Looking for scaffolding tube near you
It doesn't matter whether you're located nearby or in a completely different area of the UK. We proudly offer FREE UK shipping nationwide (for all orders above £70 + VAT). Our delivery is fast, reliable and we'll keep you informed every step of the way.
Cutting your scaffolding tube to size
We also offer an unlimited FREE cutting service across our full metal range, saving you the time, effort and money. Leave it to us to cut your scaffold tube accurately to your exact requirements.
To specify your required size, simply select the closest size to your desired length and add it to your basket. Once you're ready to do so, proceed to our basket page. Here, you can add cutting instructions within the open text field provided, which will be automatically passed on to our team.
Need fittings for your scaffolding tubes?
The Metal Store is now home to a wide range of scaffolding fittings and accessories to meet the specific needs of your project.
Whether it's for exterior construction, renovation, repairs or even indoor furniture, we provide a great variety of scaffolding fittings. These include base jacks, base plates, couplers, joint pins and many more.
You can take a look at our full range of scaffolding fittings here.
Buy scaffolding tube from The Metal Store
Our full range of scaffolding tubes can be viewed and purchased easily online for either delivery or collection. You can also call our sales team on 01274 875479 or email us at [email protected] and we will be happy to help in any way we can.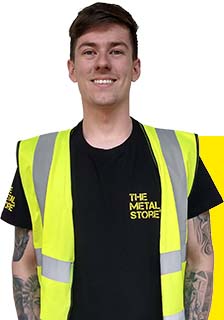 If you're not sure what you need,
then we're just a call away