Sheet
Galvanised Mild Steel

Sheet

UK Stockist & Supplier
Discounts: Make bigger savings the more you buy. Savings are applied automatically in your basket.
Save time and let our expert team put together your quotation for FREE.
Get a FREE Quote
Get the galvanised steel sheet you need without the hassle you don't
The Metal Store is a leading UK-based stockist and supplier of galvanised steel sheet. Boasting super-speedy delivery in 1-3 days and free unlimited cutting services, as well as a friendly, experienced team and online purchasing – there are plenty of reasons why more people are turning to us for their galvanised steel needs.
Galvanised steel sheet benefits
Also known as plate, galvanised steel sheets are perfect for use in roofing projects. Seen as a more customisable option to corrugated metal, our mild steel sheets are hot dipped in zinc to EN ISO 1461 standards for added protection against the elements.
This galvanising process makes the mild steel sheets perfect for use in outdoor projects like industrial units, residential buildings and more temporary structures like outbuildings. Combining DX51D and Z275 to BS EN10346: 2015, the hardwearing properties of the material make it a perfect longer-term solution for works which require fortification from the wind and rain.
Galvanised steel sheet in a range of sizes
Our range of galvanised steel sheets come in a variety of sizes. Choose from 1mm to 3mm thickness, depending on the job you need to complete.
Once you've nailed the thickness of your sheet, then you can select from a range of lengths and widths – starting from 50mm x 50mm squares and stretching out as far as 2500 x 1250mm rectangular sheets.
However, if you can't find the right size or shape of mild steel sheet for you, we also offer a comprehensive free unlimited cutting service. So, you can always be sure to get the right cut for your project.
Free delivery on large orders
With The Metal Store, you won't be left waiting around for your galvanised steel sheet. We aim to deliver all orders within 1-3 days, and even offer free delivery for orders over £70 for England, Wales and Central Scotland, or £160 for the Highlands.
Speak to our specialist team today on 01274 875479 for more information on how we can assist on your project or to order over the phone.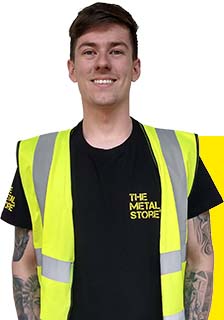 If you're not sure what you need,
then we're just a call away