Aluminium Sheet
Aluminium Sheet

UK Stockist & Supplier
Discounts: Make bigger savings the more you buy. Savings are applied automatically in your basket.
Save time and let our expert team put together your quotation for FREE.
Get a FREE Quote
Buy aluminium sheets online from trusted UK stockists
The Metal Store is a leading aluminium sheet supplier, providing a wide range of high-quality, low-price products to UK businesses.
Also known as aluminium plate, our aluminium sheet is supplied in Grade 1050 with a blue/silver appearance and a mill finish. One of the most popular grades available, Grade 1050 is ideal for general sheet metal work where moderate strength and a light weight are required.
Benefits of using aluminium sheet
Selecting the best and most appropriate material is vital for any project. So why should you choose aluminium sheet over other metals? To start with, it's lightweight. Aluminium sheet is about a third of the weight of steel.
It's also resistant to corrosion, which is a common issue for most metals when coming into contact with oxygen in the air. Aluminium is different as it naturally generates a protective oxide coating, making it highly corrosion resistant.
Aluminium sheet is also ductile. The density and low melting point mean that it can be easily bent or shaped to take on any form without hassle.
Finally, it's 100% recyclable and sustainable. Re-melting aluminium sheet requires very little energy throughout the recycling process.
What is aluminium sheet typically used for?
Aluminium sheet can be used in many industries. Its lightweight qualities make it ideal for car body repairs, aircraft engineering, kitchen splashbacks, sign making, model making and jewellery.
With corrosion resistant qualities, aluminium sheet is also ideal for windows, roofing and other construction jobs. It's even impermeable and odourless which is why it's often used for food and beverage packaging.
Stocking a wide range of finishes and thicknesses
As a leading UK supplier of aluminium sheet, we stock a range of different finishes and thicknesses, including:
- Standard aluminium sheet in0.9mm, 1.2mm, 1.5mm, 2mm, 5mm and 6mm
- Checkered plate aluminium sheet in1.5mm, 2mm, 3mm and 4.5mm
- Stucco aluminium in 1.2mm
Why choose us as your aluminium sheet suppliers?
At The Metal Store, we aim to tick every box when it comes to your aluminium sheet requirements with a variety of high-quality products. But that's not all. To make things more cost-effective for you, we offer free standard delivery on all orders above £70 – or £160 to the Scottish Highlands.
That's also topped off with an impressive bulk discount. Spend more than £1,000 on aluminium sheet or any of our top-quality products, and you'll get 5% off your order. That rises to 10% off orders exceeding £2,000. All discounts are applied automatically at the checkout, so you don't need to go out of your way to save money!
Need your aluminium sheet cut to size?
We offer an unlimited, free aluminium sheet cutting service across our full range, which puts us head and shoulders above many other aluminium sheet stockists. There's no minimum spend, less waste, and you get exactly what you need.
Buy aluminium sheet online
Ready to purchase high-quality aluminium sheet for your project? You can browse a wide range of products on our website then order with ease for delivery or collection. Alternatively, you can call our sales team on 01274 875479 or email us on [email protected].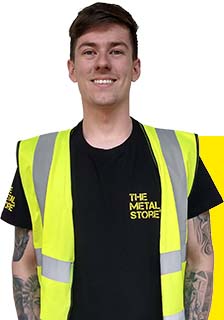 If you're not sure what you need,
then we're just a call away