Aluminium
Aluminium

UK Stockist & Supplier
Discounts: Make bigger savings the more you buy. Savings are applied automatically in your basket.
Save time and let our expert team put together your quotation for FREE.
Get a FREE Quote
Get the aluminium you need from dependable local stockist
The Metal Store is a leading online aluminium stockist, supplying a wide range of aluminium products to customers across the UK. Whatever grade, width, thickness or length of aluminium you need, you'll find exactly what you're looking for in our online collection.
What is aluminium used for?
Aluminium is one of the most utilised metals in the world, second only to steel. We use it constantly in our daily lives – within household items, mobile devices, transportation, machinery and construction. But why is it so popular? The answer becomes clear when we look at its natural properties.
One of the lightest metals in the world, aluminium strikes a balance between malleability and strength. With a superior strength-to-weight ratio than steel, aluminium's balance makes it incredibly useful and versatile.
Aluminium also has an extraordinary affinity with oxygen. When exposed to air, it develops a thin, hard layer of aluminium oxide, which makes it incredibly corrosion resistant.
The resistance and durability can be strengthened further through the finishing process by anodising or painting the aluminium. Want to capture a silver effect without the cost? Aluminium is known for its similar appearance to silver and famed for its shiny, light-reflective finish.
What range of aluminium do we supply?
As a leading UK stockist of aluminium, we supply a vast range of aluminium metal products ranging in size and grade. If you're searching for grades 1050, 6082 or 5754, you've come to the right place!
Here's the full range of aluminium we stock:
Aluminium Angle (6082)
Aluminium Box Section (6082)
Aluminium Flat Bar (6082)
Aluminium Round Bar (6082)
Aluminium Square Bar (6082)
Aluminium Tube (6082)
Aluminium T-Section (6082)
Aluminium Sheet Metal (1050)
Aluminium Checker Plate (5754)
Each product is available to buy from our online store in a range of standard widths, heights, thicknesses and lengths. Click on any of our products for more details.
UK supplier with bulk buy discounts
There's a reason we're a leading aluminium supplier in the UK. If you want high-quality, durable metal at fantastic prices, then look no further. All orders over £1000 feature a minimum 5% discount (ex VAT).
View our full list of discounts below:
5% for orders over £1,000 (ex VAT)
10% for orders over £2,000 (ex VAT)
No need to worry about applying your discounts – they're added automatically at the checkout.
But the savings don't stop there. If there's a specific length you need, we'll cut your aluminium down to size – and it's completely on the house. This means less waste too, so your aluminium will be perfect for you and the planet.
When using this cutting service on your product, please give allowance for 5mm per cut from the saw blade.
Ordering from mainland England or Wales? To top it off, you'll get free delivery on orders over £70 + VAT. Orders to Central Scotland also receive free delivery on purchases over £145, and the same goes for orders over £160 to the Scottish Highlands.
Buy aluminium online with UK delivery
Ready to embark on your next metalworking project? Explore our vast aluminium metal range online, then order for fast delivery or collection.
Alternatively, give our sales team a call on 01274 875479, or email us via [email protected].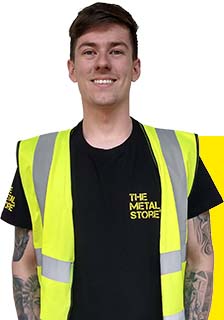 If you're not sure what you need,
then we're just a call away