Tube
Stainless Steel Tube

UK Stockist & Supplier
Discounts: Make bigger savings the more you buy. Savings are applied automatically in your basket.
Save time and let our expert team put together your quotation for FREE.
Get a FREE Quote
Find the stainless steel tube you need right here
The Metal Store are a leading UK supplier of stainless steel tube. Offering high-quality products, fast UK delivery and free unlimited cutting, we're the stainless steel tube supplier of choice for many UK customers. Order online or by phone to receive stainless steel tube cut to your specifications in 1-2 days.
Stainless steel tube in grades 304 and 316
At The Metal Store, we offer an extensive range of stainless steel tube (or pipe) products in grades 304 and 316, as well as stainless steel tubes for tube clamps in grade 304.
Stainless steel tube is widely used in both domestic and industrial settings, such as household piping, automobile manufacturing and construction. It's also widely used for making clamps to secure everything from pipes to wires and tubing.
Grade 304 and 316 stainless steel have a variety of properties making them ideally suited to a wide range of applications. Grade 304 is the most common stainless steel, offering great weldability, good forming properties and corrosion resistance. Our grade 304 tube is available in either bright or satin polished finishes.
Although harder to machine than grade 304, the increased corrosion resistance of grade 316 makes it ideal for tough environments, such as marine, coastal and heavily industrialised areas.
Wide choice of dimensions and free cutting
Whatever your needs, The Metal Store can provide the perfect stainless steel tube or pipe. We offer 3 and 6 metre lengths, with diameters from as small as 8mm up to 16mm in grade 316, and ¾" to 2" in grade 304.
If you're looking for a specific length, we offer a free unlimited cutting service with every purchase. Using a state-of-the-art bandsaw, our precise cutting service can cut tubes to the exact lengths you require. Simply let us know when ordering. It's another reason why we're a leading stainless steel tube supplier for UK customers.
Contact your stainless steel tube suppliers
You can easily order stainless steel tube online, including any specifications regarding cutting. We offer free delivery to England and Wales on all orders over £70, with thresholds of just £145 for Central Scotland and £160 for the Highlands.
Alternatively, our friendly sales team will be happy to take your order. Simply call us on 01274 875479 or email [email protected] and we'll get back to you as soon as possible.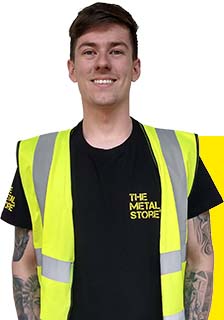 If you're not sure what you need,
then we're just a call away