Box Section
Aluminium Box Section, Square Tube & Hollow Section

UK Stockist & Supplier
Discounts: Make bigger savings the more you buy. Savings are applied automatically in your basket.
Save time and let our expert team put together your quotation for FREE.
Get a FREE Quote
100% FREE
custom cutting – no hidden costs
Leading UK supplier of aluminium box section
If you need premium aluminium box section, you'll find everything you're looking for within our selection. As a leading UK supplier of aluminium, we stock 16 swg (1.6mm) and 10 swg (3.25mm) thick aluminium box section in a variety of lengths and sizes.
Also referred to as aluminium square tube or hollow section, aluminium box section is perfect to use for making frames, enclosures and furniture. At The Metal Store, we supply aluminium box section in Grade 6082. This mid-strength alloy has excellent corrosion resistance, which means it's also ideal for use in high-stress structural applications, including for cranes, roofs, bridges, or transport.
Buy aluminium box section online
If you require a specific length of aluminium box section, there's no need to worry! We offer an unlimited free cutting service to bring your box section down to size.
Want to buy in bulk? All orders over £1,000 feature discounts, starting at 5% for orders over £1,000 (ex VAT), rising to 10% for orders over £2,000 (ex VAT). If your delivery address in mainland England or Wales, you'll receive free delivery on orders over £70.
Ready to make your order? There are multiple ways to pay to suit your needs. You can buy your aluminium box section online, or if you'd prefer to call or email, you can contact our sales team on [email protected] or 01274 875479 to process your order.
Frequently asked questions
1. What is aluminium box section used for?
Aluminium square tube has a variety of applications, as it's relatively easy to weld. It's frequently used to produce frames and enclosures, and it's also commonly used in furniture making. Ultimately, the applications of aluminium square hollow section will depend on its grade. The Metal Store supplies aluminium square tube in Grade 6082, which is a mid-strength alloy that's ideal for structural purposes.
2. How can you cut aluminium box section?
Whilst it's entirely possible to cut aluminium square hollow section with a hack saw, this is unlikely to produce a clear finish. However, the best option would be to use a band saw or mitre saw instead. Before you start cutting aluminium square tube, ensure you've cleaned the metal and positioned your box section within a clamp to keep it in place.
If you need assistance with cutting your aluminium square tube, we offer a free, unlimited cutting service, so you can get the perfect size box section without the hassle.
3. How to join aluminium box section
Aluminium square tube can be joined together by welding. Alternatively, you can use plastic tube connectors, which are attached at the ends of aluminium square hollow section.
4. What is the best way to bend aluminium box section?
Ultimately, this will vary depending on the size, grade and thickness of your aluminium square tube. There are some limitations to bending aluminium box section, as this can cause cracking if not handled carefully. Whilst you can use tools such as a tube bender to bend aluminium square tube, the best results are often achieved with specialised machinery.
5. How to weld aluminium box section
Aluminium square hollow section is very suited to welding. You can use a variety of methods to weld aluminium square tube, including TIG (GTAW) and MIG welding. Before you decide on a method, consider the following:
• The size of your aluminium box section
• The thickness
• The finish
• The intended application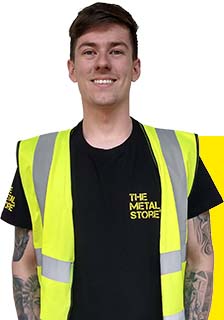 If you're not sure what you need,
then we're just a call away