Brass
Brass

UK Stockist & Supplier
Discounts: Make bigger savings the more you buy. Savings are applied automatically in your basket.
Save time and let our expert team put together your quotation for FREE.
Get a FREE Quote
Leading brass suppliers near you
What do you want from a brass stockist – high-quality products, a wide range of options and a top-rate UK service? At The Metal Store, we combine all three to provide brass supplies to customers up and down the country. Wherever you're based, whatever your requirements, we'll provide the brass tube, bars, angle or sheet you need in next to no time.
Our brass products
Brass is harder than copper and has a yellow gold appearance, with excellent corrosion resistance though it does tarnish. It's useful where low friction is important, such as locks, valves, gears and bearings. Brass is also used in plumbing and electrical applications. Because of its antibacterial quality, it's also an ideal metal for doorknobs, door handles and other decorative applications.
With brass used for a range of different applications, there are a variety of brass products that you can choose from. As a leading brass stockist, we aim to cover all bases when it comes to brass types and suitable grades:
Suppliers of brass, tailored to you
All of our brass products have a mill finish as standard, which is the texture and appearance immediately after manufacturing. Mill finishes can vary, with rough textures, swarf on the surface and various marks – none of which are an issue for non-decorative brass applications.
In other cases, where appearance is important, we offer a polished finish for our brass tube, angle and sheet ranges. Polishing removes any surface oxidation, preventing corrosion and enhancing the appearance with a reflective finish.
You can also choose from a selection of lengths for each of our products:
Tube – 2.5m or 5m
Angle – 1m, 2m or 3m
Flat bar – 0.5m, 1m, 2m or 3m
Round bar – 1m, 2m or 3m
Square bar – 1m, 2m or 3m
All brass products are cut using a band saw with the latest technology to ensure the highest cutting performance, precision and repeatability. When you opt for mill-finish brass products, you'll benefit from free unlimited cutting.
Ready to get started? Simply select your products and place your order then enjoy fast UK delivery. Or get in touch with our team if you have any questions on 01274 875479 or [email protected].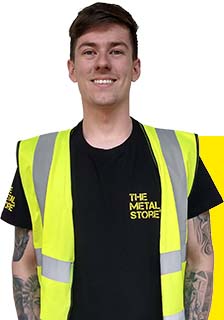 If you're not sure what you need,
then we're just a call away