Angle
Aluminium L Angle, Section & Trim

UK Stockist & Supplier
Discounts: Make bigger savings the more you buy. Savings are applied automatically in your basket.
Save time and let our expert team put together your quotation for FREE.
Get a FREE Quote
100% FREE
custom cutting – no hidden costs
Buy high-quality aluminium angle online
Looking for high-quality, low-cost aluminium angle? You've come to the right place! We are a leading UK stockist of aluminium angle (L section / trim) in a wide variety of lengths, sizes and thicknesses.
We stock 1/16", 1/8", 3/16", 1/4", 3/8" and 1/2" thick aluminium angle to suit your needs. Depending on the thickness required, our collection includes 500mm, 2.5m and 5m lengths.
What is aluminium angle used for?
Aluminium angle has a wealth of uses in your home and garden. It can be used as framing for boxing in pipes, as well as for corner protection and edging, shelving and general bracketry. As an extremely versatile metal, aluminium angle can be drilled, cut and welded to suit your project requirements.
Our aluminium angle is supplied in Grade 6082, a medium strength alloy with excellent corrosion resistance. This means it's also ideal for use in high-stress structural applications, including cranes, roofs, bridges, or transport.
Aluminium angle is also commonly known as aluminium L angle, aluminium L section, and aluminium trim. So, if you're in need of any aluminium angle, L section, or trim, you'll find exactly what you're looking for in our collection.
Aluminium angle with bulk buy discounts
Need a specific length of aluminium angle? We will cut your aluminium to size – at no extra cost.
Orders over £1,000 include bulk buy discounts:
5% for orders over £1,000 (ex VAT)
10% for orders over £2,000 (ex VAT)
All discounts are added automatically at the checkout – plus, you'll receive free delivery on £70+ orders to addresses in mainland England or Wales!
Ready to buy durable aluminium angle? You can buy online via our website. Prefer to call or email? Reach out to our sales team on 01274 875479 or [email protected], and they'll be happy to help with your order.
Frequently asked questions
1. How do you calculate aluminium angle weight?
If you need to calculate the weight of aluminium L angle, there are several key details you'll need to know:
• First, you need to find the alloy grade and metal density of your selected aluminium L section.
• Next, find the measurements, including the height, length, width and thickness. This will help you to pinpoint the total volume of the aluminium angle, which is measured in cubic centimetres (cm3).
• Once you have this calculation, multiply it by the density of the aluminium L angle. This is typically measured in g/cm3. Through this, you can find the weight (mass) of your aluminium trim.
2. How strong is aluminium angle?
Aluminium L angle is frequently used for structural purposes, so it needs to be strong. However, the specific strength will depend on its grade. At The Metal Store, we supply aluminium L section in Grade 6082, which is a medium strength alloy. This means it's suitable for structural applications, including roofs and bridges.
3. How to join aluminium angle
There are several simple ways to join aluminium angle. Arguably the most popular option is welding, as it provides long-lasting, high-strength results. However, there are some downsides to this option, as it isn't suitable for all applications. In these cases, you can join aluminium L section without welding – for example, through brazing, soldering or with screws or rivets.
4. Can you cut aluminium angle?
Yes, you can cut aluminium L angle. Whilst it is possible to use everyday tools like a hack saw, this can leave a rough finish and even bend the aluminium trim. In most cases, a mitre saw is the better option for cutting aluminium L section. Ideally, the angle should be held in place using a clamp during the cutting process.
If you're unsure about the best way to cut your aluminium L angle to the right measurements, The Metal Store offers a free unlimited cutting service to suit your needs.
5. How to bend aluminium angle
In most cases, you can use a brake press to bend aluminium L angle. There are some limitations, though – for example, it's not recommended to bend anodised aluminium L section, as this can lead to micro-cracking.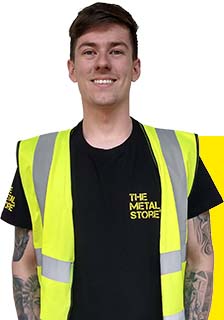 If you're not sure what you need,
then we're just a call away