Home ›
Tube Clamp Quotes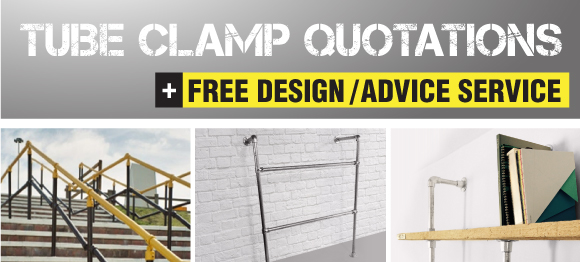 The Metal Store can quote you for your Tube Clamp Design requirements FREE of charge. So if you need a quote for a handrail, bespoke clothing rail, shelving unit or your own tube clamp project we can help.
To obtain a quotation please email us on sales@themetalstore.co.uk We will send you back a quote as soon as we can.
Your email should include the following details:
Your name
Company name (if applicable)
Telephone number
Email address
Installation/site address
Your requirements
Date required
Plans/Drawing/Sketch. This must include all dimensions and gradients if applicable.
We can also arrange to have the tubes and clamps powder coated in a range of RAL colours. If you require this service, just let us know which tubes and clamps you require coating and we will be happy to quote this for you. Please note that there is an £80.00 plus VAT minimum charge for powder coating and delivery for powder coated products takes 7-10 working days.
Important Information
This is a quotation service only and is subject to the information provided to us being accurate. The Metal Store will not accept any liability for any loss or damage including without limitation, indirect or consequential loss or damage, or any loss or damage whatsoever arising from the use of the free quotation service or any errors or omissions in the quotation. Fitting of the handrail/tube clamp products is entirely at your own risk and The Metal Store do not provide this service. The ultimate responsibility for the correct choice of size and type of fitting for any application belongs with the customer. The customer is responsible for ensuring that the construction or structure is sufficiently strong to support the weight of its component parts plus any applied load, and that suitable fixings are used. Customers must satisfy themselves that the structure and its component parts are fit for purpose.
Providing we have the parts in stock we will deliver the goods within 2-3 days of you placing your order. However, sometimes this is not possible and we would recommend that you do not schedule any work until you have received your order. We cannot be held responsible for be liable for any losses, damages, charges or expenses as a result of any delay in delivery.