Universal Beams/Columns
Mild Steel

Universal Steel RSJ Beams & Columns

UK Stockist & Supplier
Discounts: Make bigger savings the more you buy. Savings are applied automatically in your basket.
Save time and let our expert team put together your quotation for FREE.
Get a FREE Quote
Leading supplier of universal RSJ steel beams and columns near you
Looking for a leading local supplier of universal RSJ steel beams and columns? Look no further. The Metal Store has been a trusted supplier of steel RSJ's for over 10 years. Delivering to customers throughout the UK, we can supply steel beams in a range of sizes to suit your needs.
What is a steel RSJ and what is it used for?
RSJ is a term commonly used to refer to a rolled steel joist. RSJ's can also be referred to as steel I beams or H beams, depending on the required profile and use (more to come on that).
Steel beams are commonly used for structural steelwork, where there's a load that needs to be supported. This could be creating a full skeleton steel structure for a new building or home, or for reinforcing the structural integrity when making alterations to an existing structure in instances such as an extension or opening
Types of RSJ - Steel I beam vs H beam?
RSJ Steel beams are required to support heavy loads, which is why it's important to understand which one is right for your project.
A steel beam consists of two horizontal planes, known as flanges, connected by a single vertical plane, known as the web. The web helps to resist against shear forces, whilst the flanges help to resist against bending.
With a steel I beam, also referred to as a universal beam, the height of the web is greater than the width of the flanges and the edges are tapered. This creates a shape that resembles an I when seen from its cross section, hence the name I beam.
A H beam on the other hand, also referred to as a universal column, has a similar web height and flange width. The result is that the steel beam is squarer and looks like a capital H when looking at the cross section.
A H-beam also has a thicker centre web, which means it is often stronger. A steel I-beam often has a thinner centre web, which means it is often not able to take as much force as an h-beam.
Our RSJ Steel Beams – quality, sizes and weight
All our RSJ steel beams are purchased from UK or EU sources and all have CE marked certification to EN10025 - S355JO and come unpainted as standard.
Our steel beam sizes are listed by height in mm (web), width in mm (flange) and weight per metre in kilograms, and we provide in various standard lengths from 1m to 3m.
To calculate the weight of a steel beam or column, multiply the total length of the beam by the weight per metre. The RSJ cost is based on a combination of size, weight and the length required.
Enjoy free UK delivery on standard-length RSJ steel beams
All standard RSJ steel beam sizes bought directly through our website can be delivered straight to your door. You select your delivery date and we will delivery your goods for free to mainland England, Wales and Central Scotland on all orders over £70. What more could you ask for?
Whilst we will send out your RSJ steel beams on an overnight service; we do request that you allow up to 72 hours for your item to arrive. As it is generally large, long and heavy freight, we cannot guarantee the delivery date. For this reason, we also reinforce our message not to book any installation work until your RSJ has arrived and been checked.
Can't see the RSJ steel beam sizes you need?
We can also supply RSJ steel beams in any length up to 6m. For a quotation or lead time for anything you don't see on our website, please contact our friendly and expert team.
We will need to provide a quotation for delivery to you. Alternatively, we may be able to deliver on our transport within a 10-mile radius or you can collect.
Need your RSJ steel beams cut to size? We also offer an unlimited free cutting service on all steel beams. Simply add the relevant product to your basket and add your cutting instructions to your basket. If you're ordering longer lengths via email or over the phone, let our team know what your cutting requirements are, and we'll do the rest.
Buy your RSJ steel beams online from The Metal Store
Simply select your RSJ beams and place your order online today. Or get in touch with our team if you have any questions on 01274 875479 or [email protected].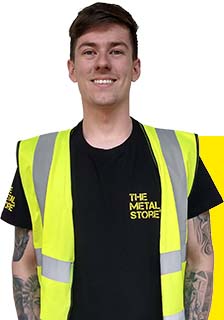 If you're not sure what you need,
then we're just a call away