1800mm (6 ft) Corrugated Sheet
Galvanised Mild Steel
Corrugated Sheet
0.5mm thickness 1800mm (6ft) x 990mm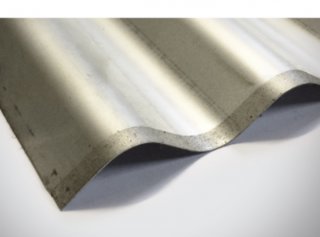 Discounts:
Make bigger savings the more you buy. Savings are applied automatically in your basket.
Full discount details
Our 1800mm (6 ft) Corrugated Galvanised Sheets are ideal for quick and easy roofing solutions, offering large coverage combined with good protective qualities. Suitable for commerical, residential and diy projects such as outbuildings, they are an economical option.
Please note these are supplied as full sheets and we DO NOT cut these sheets and therefore, they are NOT included in the FREE or chargeable cutting service we offer.
Need fixings or zinc galvanising spray? Click here to add to these to your cart.
Please note that galvanised products may have a small hole in them. This is to enable the product to be dipped in the galvanising tank.
Discounts
The Metal Store is pleased to offer discounts on the following amounts (ex VAT). All discounts are automatically applied at checkout.
2.5% off orders over £250 + vat
5% off orders over £500 + vat
7.5% off orders over £750 + vat
10% off orders over £1,000 + vat
12.5% off orders over £2,000 + vat
15% off orders over £3,000 + vat
If you're not sure what you need,
then we're just a call away
01274 875479