Buy Now & Pay Later with
Two and The Metal Store
Cashflow for businesses, especially, when you're buying parts, products and materials for a job can be tricky. That's why we've teamed up with Two, a specialist in providing Buy Now Pay Later solutions for online business purchases. The best part? Two offers you interest-free trade credit!
Credit where credit's due, with Two.
When you use Two to purchase products, you'll get 30 days to pay, completely interest-free. That means it'll cost you nothing to get that extra bit of breathing space when needed. Just another reason to buy more with The Metal Store.
How does Two work?
Why use Two?
We will always offer a selection of instant payment options via the usual debit and credit cards but with Two you also benefit from that extra bit of flexibility whenever needed:
30 days, interest free trade credit
It's quick and easy – buy in one click
Invoices are sent straight to you
Cash flow flexibility whilst you wait for your customers to pay
Purchases paid via Two have no impact on your company's other lines of credit
Invoices can be paid quickly and easily by bank transfer
Frequently asked questions
How does purchase on invoice with Two work?
Purchasing on invoice with Two comes at no extra cost to your business and allows you to check out in just a few seconds. All you need to do is enter your company name and your company's invoice email address. Two sends the invoice directly to your company, and you have 30 days to pay the invoice.
I've just received the invoice for my purchase, why do I need to pay Two and not The Metal Store
The Metal Store uses Two as its invoice issuer for online business purchases. Therefore, your company will receive an invoice from Two when your order with The Metal Store has been processed.
When purchasing with Two, why have I been asked to verify with Yapily?
For your company's protection, Two needs to verify your identity. Two uses Yapily's open-banking API solely for identity verification.
For more information:
To read Two's full Terms & Conditions visit: Terms & Conditions for payment on invoice as a company
Sound Two easy? That's because it is.
This brand new solution offers our online customers flexible, interest-free trade credit where you can buy now and pay later without being hit with additional fees. It's as simple as that.
Once again, you can expect more and get more with The Metal Store.
Ok, I'm in, let's shop.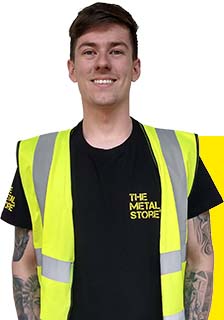 If you're not sure what you need,
then we're just a call away