Copper Splashback
Copper Kitchen Splashbacks

0.9mm Thick | Brushed Finish
Discounts: Make bigger savings the more you buy. Savings are applied automatically in your basket.
Order your Bespoke Splashback using the splashback calculator.
Please note the price shown in the calculator includes free cutting.
We will not accept return of splashbacks as they are cut to your specification. Once cut we are unable to cancel the order even if it has not been dispatched. Terms & conditions apply.
Want to see how easy it is to build?
Get our handy 'How To Build' guide
Quality copper splashbacks, custom cut for your kitchen
Do you need a custom-cut copper splashback for your kitchen? Look no further than The Metal Store. We're one of the leading suppliers of copper splashbacks in the UK, delivering high-quality, bespoke products in just one or two days. Join the thousands of satisfied customers and place your order today.
Copper splashbacks with precision and panache
Copper is a uniquely versatile material, in that it can bring a touch of contemporary chic or classic charm to its surroundings as the situation requires. All our copper kitchen splashbacks are made from the finest Grade C106 H/H 0.9mm thick copper and treated to a smooth, lightly brushed and slightly reflective finish. C106 is widely regarded as the copper alloy of choice for non-electrical applications, due to its malleability and excellent aesthetic qualities.
You'll find that our copper splashbacks are fitted with a thin film on the finished side, ensuring that it remains free of scratches, blemishes and other marks during transit. This film is easily removed after installation, while the reverse side is delivered unfinished.
Custom cut to your dimensions
The best part about ordering a copper splashback from The Metal Store is that we'll use our cutting-edge equipment (excuse the pun) to create a finished product that exactly matches your specifications.
By taking advantage of our handy splashback calculator, you can specify the exact width and height of the panel you need, right down to the millimetre. The largest single-sized sheet we supply is 1,000mm x 1,000mm. In addition to the dimensions, you can also request up to a dozen holes drilled in the splashback, as well as pick the direction of the grain and place multiple orders at once. Strong cardboard edging is used to protect corners and edges with a piece of rough sawn timber down the spine of the sheet for added strength.
We regret to inform you that once a splashback has been cut, we cannot accept cancellations or issue refunds.
Don't delay, order your copper splashback today
Regardless of the dimensions of the copper splashback you require, it couldn't be easier to place your order online. Simply use our splashback calculator and we'll get to work right away. We aim to deliver within 1-3 days.
On the other hand, you can also speak to one of our sales team by calling 01274 875 479 or sending an email to [email protected] and one of our team will be happy to respond to your enquiry.
Important Safety Notice: We do not finish, polish or buff the edges of the copper sheets we use and as such, they may be very sharp. Please take special care when handling and installing our copper splashbacks.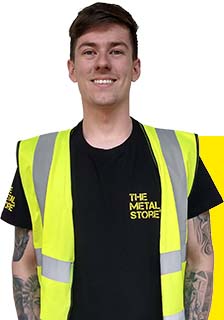 If you're not sure what you need,
then we're just a call away