Extra Cutting

Discounts: Make bigger savings the more you buy. Savings are applied automatically in your basket.
NOW WE ONLY CHARGE FOR MITRE CUTTING AND CUT OUTS.
Mitre Cutting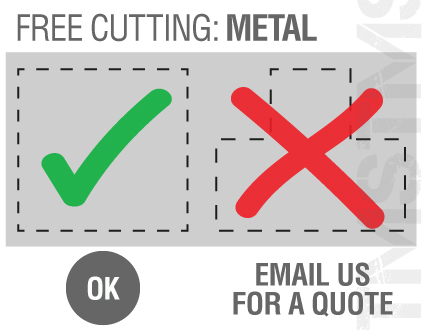 Please note that although we aim to cut as accurately as possible we work to a tolerance of plus or minus 1mm. *We do not cut Corrugated Sheets, Mild Steel Walkway and Galvanised Mild Steel Walkway, they are only supplied as full sheets and therefore, are not included in the FREE or chargeable cutting service we offer.
Also please note we are unable to cut lengths of metal i.e. box section, angle etc. down the width of the metal to reduce the size from say 40mm x 40mm to 35mm x 30mm. This requires a machining operation i.e milling and as we are a stockholder and not a fabrication company we do not have a machining facilities to offer this service. You may be able to find a local subcontract precision engineering company to provide this service for you.
Important: Our FREE cutting service only includes straight bandsaw cuts on our metal lengths or straight guillotine cutting to size on our sheets and does not include any 'cut outs' or 'shapes'. If you require any 'cut outs' or 'shapes' we will do our best to help. Just email us a drawing and your dimensions to [email protected] and we will be pleased to provide you with a quotation.
For complicated cutting requests please email [email protected] for a quotation.
PROFILE CUTTING FOR MILD STEEL SHEET AND PLATE
Profile Cutting is a cost effective option for the cutting of Mild Steel Sheet and Plate. We can carry out profile cutting on sheets from 1mm to 180mm thick**. Whatever shape you require we can cut it! Profile cutting works on a tolerance of plus or minus 1mm. There is a turnaround time of 5 to 7 working days for this service. You will be advised on a delivery date once you place your order.
As each profile cutting job is different we need to provide you with a quote. So we can send you a quote tailored to your needs we first need you to please email us a sketch of your requirements, with any dimensions and angles to [email protected] and we will arrange to provide you with a quotation. For any complicated cutting we may need a CAD drawing but we will advise you of this if required.
Please note: We are unable to take Profile Cutting instructions over the telephone and our Profile Cutting Service is not included in our free cutting service.
If you want profile cutting on a product not shown on our website we may still be able to help you. You can either email us on [email protected] or call us on 01274 875 479 to discuss.
**There may be delivery weight restrictions depending on the size and thickness of the product. We will advise you of this when you contact us.
If you're not sure what you need,
then we're just a call away