Unbreakable Mirrors
Stainless Steel
Unbreakable Mirror
304 grade 0.9mm thickness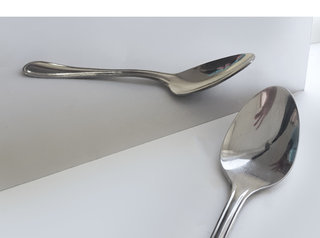 Discounts:
Make bigger savings the more you buy. Savings are applied automatically in your basket.
Full discount details
Unbreakable Mirrors are supplied in a top quality grade 304 stainless steel - 0.9mm thick. The reflection quality is as good as a glass mirror but they will not break or shatter. They fix direct to the walls with either glue or screws. If you intend to screw your Unbreakable Mirror to the wall you need to add "Fixing Holes" shown at the foot of the list. There are four holes punched, one in each corner for easy fixing. We also supply fixing kits and adhesive.
Need your unbreakable mirror cut to size? Why not take advantage of our cutting service with up to 10 cuts per sheet FREE. Click here for full details.*
*Our FREE cutting service only includes straight cutting to size on our sheets and does not include any 'cut outs' or 'shapes'. If you require either of these options we will do our best to help. Just email us a drawing and your dimensions to sales@themetalstore.co.uk and we will be pleased to provide you with a quotation.
Another popular application for these mirrors is Stable Mirrors for Horses. Click here for more information:
Important: We would advise you that the edges of the sheet metal we sell are not buffed, polished or finished and therefore, may be sharp. We ask that our customers take care when handling, using and fitting our products.
Click here for Adhesive safety data information
Click here for Silicone safety data information