Adjustable Steel Acrow Props
Adjustable Steel

Acrow Props
Discounts: Make bigger savings the more you buy. Savings are applied automatically in your basket.
Leading UK suppliers of The Original Acrow Prop
The Metal Store is a leading UK stockist of adjustable steel props, also more commonly known as Acrow Props. Our Adjustable Steel Props (Acrow Props) are designed to support floors and temporary beams, compatible with Forkheads and Prop Supports. In our collection, you'll find ready-to-use props in 5 sizes finished in a green powder coat. Finding high-quality props has never been quicker or simpler. Browse and place your order online today.
Adjustable premium props
Manufactured from 60.3mm outside diameter tube and 48.3mm high grade inner tube. The threaded portion is friction welded to the outer tube to produce a lighter weight prop. These adjustable steel props are available from stock and manufactured in accordance with ISO 9001:2015 quality system accreditation.
Description
Length Closed (m)
Length Open (m)
Weight
Size 0
1.014
1.829
9.96
Size 1
1.753
3.124
14.64
Size 2
1.981
3.352
15.25
Size 3
2.590
3.962
17.56
Size 4
3.200
4.876
20.87
Adjustable Steel Prop Technical Information
The Metal Store supply a fully tested product that is independently tested in all positions. Many other companies test just one prop in one position and claim conformance, this is outside of the test criteria and makes the claim of compliance invalid. Our props are Finished in one coat, air dried and manufactured to BS4074:1982 and tested to BS5507-3:1982. The head and Base Plates 150 x 150 x 6mm to BS4360 with 38mm diameter hole. The prop pin 080M40 BS970.
Buy Acrow Props from a reliable UK supplier
To learn more about our products or place an order, get in touch with our helpful team on 01274 875479 or send them an email at [email protected]. Or browse and purchase builders trestles on our website. With fast 1–2-day delivery, your order will be with you quickly and efficiently.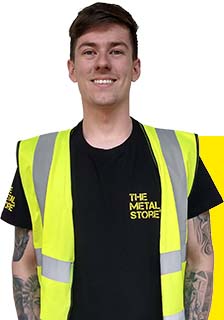 If you're not sure what you need,
then we're just a call away