Brass Round Bar

Discounts: Make bigger savings the more you buy. Savings are applied automatically in your basket.
Save time and let our expert team put together your quotation for FREE.
Get a FREE Quote
Browse a range of top-quality brass round bar stock
Brass round bar is used for a wide range of production, repair and renovation projects. At The Metal Store, we make it easier than ever to get the brass round bar stock you need without any hassle. Choose the length and diameter required or get your brass rod cut to size, then enjoy fast delivery across the UK.
Our brass round bar stock
Graded CZ121, all brass round bar from The Metal Store has 3% lead content, offering both lubrication and chip-breaking qualities. With a 100% machinability rating, our brass rod is ideal for riveting and turning as well as a range of other uses.
We understand that brass rod is generally used for non-decorative applications, which is why we supply round bar with a mill finish. That simply means you get the appearance straight from the mill, minus any unnecessary polishing processes. The result is top-quality brass round bar stock at a great price with a fast UK service.
Your brass rod, your choice
No two projects are the same. As leading brass round bar suppliers, we let you select the size you need on your terms. That starts with a choice of metric and imperial diameters, so you'll always get the exact size you need. Put away the calculator and forget about small inaccuracies, as you choose from several sizes between 10mm and 25mm or 1/8" and 3/4".
Then select the right length for your requirements. Our brass round bar comes in lengths of 1m, 2m and 3m as standard. However, we also offer a free unlimited cutting service so you can get the exact size you need. Using a high-precision band saw, our process is both accurate and repeatable for your convenience.
Order from UK brass round bar suppliers
Buying from The Metal Store, everything above is combined with a fast, efficient and hassle-free service. Your brass round bar will be delivered within 1-2 days with free delivery on orders over £70 in England and Wales – or £145 to Central Scotland and £160 to the Highlands.
Order online for delivery across the UK or contact our team of brass bar suppliers on 01274 875479 to talk more about your requirements.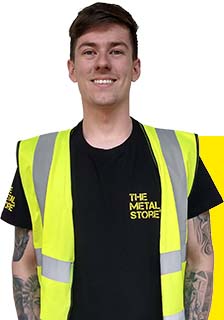 If you're not sure what you need,
then we're just a call away