Brass Flat Bar
Brass Flat Bar

UK Stockist & Supplier
Discounts: Make bigger savings the more you buy. Savings are applied automatically in your basket.
Save time and let our expert team put together your quotation for FREE.
Get a FREE Quote
Buy brass flat bar in a range of lengths and sizes
Welcome to The Metal Store – your dependable UK suppliers for brass flat bar alongside angle, tube and brass sheet. Whether you're an individual or large organisation, you'll find the best products paired with an outstanding service, including fast delivery and bulk-buy discounts.
Introducing our brass flat bar
Machinability is paramount for brass flat bar. That's why our products are graded CZ121 with 3% lead content acting as a lubricant as well as a chip breaker. The result is a 100% rating for machinability, which – as you might expect – is the highest rating possible.
With brass bars used for non-decorative purposes, we don't use any unnecessary polishing processes on our products. To minimise costs for customers, all brass flat bar is supplied with a mill finish, exactly how it appears after manufacturing. Rough textures, surface swarf and markings can vary, but it will always be the same top-quality brass flat bar.
Suppliers for all sizes
As leading brass flat bar suppliers, we stock a selection of lengths and sizes for you to choose from. Our brass flat bar comes with a 1/8" depth as standard with the width of bars varying from ½" all the way up to 3" depending on your requirements. On top of that, you can choose from brass flat bars which are 500mm, 1m, 2m and 3m in length.
If you have a specific length in mind, that's not a problem. We offer a free, unlimited cutting service to get you the exact size you need. Because our brass flat bars come with a mill finish, we can cut all products without any impact on their quality. The process is completed using a high-precision band saw for the utmost accuracy and repeatability.
Order your brass flat bar today
With The Metal Store, it couldn't be easier to get the brass flat bar you need, when you need it, at a great price. We offer fast delivery of 1-2 days after your order is completed. That's paired with bulk-buy discounts and no delivery charge for orders over £70 to England and Wales, £145 to Central Scotland and £160 to the Scottish Highlands.
Place an order online today or contact our brass flat bar suppliers directly on 01274 875479 to find out about or products or place an order over the phone.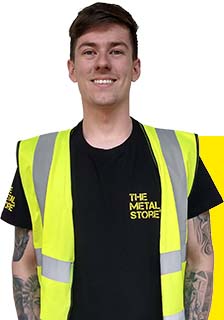 If you're not sure what you need,
then we're just a call away