Brass Sheet
Brass Sheet

UK Stockist & Supplier
Discounts: Make bigger savings the more you buy. Savings are applied automatically in your basket.
Save time and let our expert team put together your quotation for FREE.
Get a FREE Quote
Brass sheet metal cut to size by local UK suppliers
The Metal Store are leading brass metal sheet suppliers for UK customers. From high-quality products to a free, unlimited cutting service, we tick every box. You don't need to spend hours searching for brass sheet stockists you can rely on. Simply order online or over the phone and get the brass plate you need in 1-2 days.
Brass sheet metal graded CZ108
Using grade CZ108 metal, our brass sheet is highly workable on machines with a light feed and slow speed. Best of all, it can be used for a range of applications including both decorative and purely functional.
For the latter, our mill finish brass plate is the perfect fit. It comes straight from manufacturing to accelerate the production process and minimise the final cost of your order.
Alternatively, you can order polished brass sheet metal, which will remove surface oxidation, prevent corrosion and further enhance the appearance of your brass with a reflective finish.
Choose your dimensions or cut to size
To cater for all requirements, we stock brass sheet in a selection of thicknesses. Choose from 0.9mm, 1.5mm and 3.0mm thicknesses for polished brass sheet, or order mill finish brass sheet with a thickness of 0.9mm. You can then select the right dimensions from a range of standard sizes, between 50mm to 1000mm in length and width.
Or if you're looking for a specific length or width, you can have your brass sheet cut to size. Our UK workshop offers this as a free service, with our own state-of-the-art bandsaw for ultimate precision and repeatability. It's just another reason we're the brass metal sheet suppliers of choice for so many UK customers.
Talk to expert brass sheet stockists
If you would like to talk more about your brass sheet metal requirements, our brass sheet suppliers are just a phone call away. You can contact us on 01274 875479 or email [email protected] and we'll get back to you as soon as we can.
Or if you're ready to go, simply place your order online. We offer free delivery to England and Wales on all orders over £70, with thresholds of just £145 for Central Scotland and £160 for the Highlands.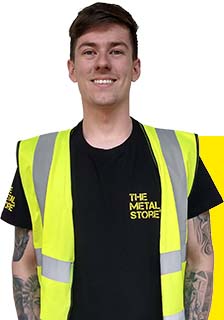 If you're not sure what you need,
then we're just a call away