3mm thick CorTen Steel Sheet
CorTen Steel
Sheet
3mm thickness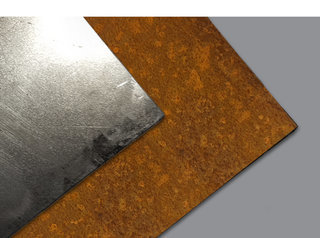 Discounts:
Make bigger savings the more you buy. Savings are applied automatically in your basket.
Full discount details
Please note that the colour of the CorTen sheet supplied is 'silver' and changes to the 'rust colour' over time when it is exposed to an outside wet-dry atmosphere.
CorTen steel is corrosion resistant steel or weathering steel and is popular for use outdoors due to its rust coloured apperance. When left uncoated and exposed to an outside wet-dry atmosphere it develops an initial layer of oxidation, which as well as giving it its dark brown or 'rust' coloured appearance over time helps to protect the base metal.
Need 1.5mm thick sheet? Click here
If you want the CorTen Sheet cut to size we can do that for you, with up to 10 cuts per sheet FREE of charge. Please click here for full details of this service.
Discounts
The Metal Store is pleased to offer discounts on the following amounts (ex VAT). All discounts are automatically applied at checkout.
2.5% off orders over £250 + vat
5% off orders over £500 + vat
7.5% off orders over £750 + vat
10% off orders over £1,000 + vat
12.5% off orders over £2,000 + vat
15% off orders over £3,000 + vat
If you're not sure what you need,
then we're just a call away
01274 875479