CorTen Steel Sheet
CorTen Steel

Sheet

UK Stockist & Supplier
Discounts: Make bigger savings the more you buy. Savings are applied automatically in your basket.
Save time and let our expert team put together your quotation for FREE.
Get a FREE Quote
CorTen steel sheet delivered across the UK
At the Metal Store, we're more than just a reliable CorTen steel sheet supplier. To give you the best possible experience, our great stock is paired with unparalleled customer service. Alongside a range of high-quality products, we provide fast delivery throughout the UK and a free unlimited cutting service.
You can order CorTen steel sheet in a choice of lengths, thicknesses and dimensions. Our flexible ordering service allows you to purchase online or by phone.
More on CorTen steel sheet
Also known as weathering steel, CorTen steel is famous for its high strength, impressive resistance to corrosion and rusted colouring. CorTen steel employs an oxide rust patina layer through natural exposure to the weather. This rusted coating gives the steel its iconic orange colour and protects it against further corrosion, making it weather resistant. That's why CorTen steel sheets are often used for shipping containers, bridges or cladding.
Because weathering steel continues to rust for a long time, there's little need for regular maintenance or painting. Its low running costs and life-long durability make it extremely popular with structures where regular upkeep would be disruptive, such as a footbridge.
Choose your size
As one of the UK's leading CorTen steel sheet suppliers, our weathering steel comes in different sizes. We offer cold-reduced CorTen steel plate with thicknesses of 1.5mm and 2mm or hot-rolled 3mm steel plates. Each of these thicknesses is available with a range of standard widths and heights.
But not to worry if those aren't quite the dimensions you're after. We provide a free unlimited cutting service with every purchase. The Metal Store uses a top-rate guillotine to cut with precision and repeatability. Just let us know when you make your order, and we'll do the rest.
All our CorTen steel sheets are supplied unweathered, meaning they will arrive as shown in the product images. As the CorTen steel plate progresses through the weathering process, the rust layer will change to a dark brown/rustic orange tone synonymous with CorTen metal. The speed of the process will depend on if it's in a wet or dry environment.
Our CorTen steel sheets can also be fixed directly to a flat surface with screws. If you need fixing holes (4 holes, 1 in each corner) just write 'fixing holes' in the note section of the shopping cart and we can provide this service.
Order your CorTen steel sheet
Our expert team is on hand to give you all the information you require for your CorTen steel sheet needs. Call us now on 01274 875479 or email [email protected] and someone will get back to you to take your order or answer any questions.
Ordering online is also easy to do. Simply choose your products and leave us a note if you have any specific alterations when you click through to your basket. We offer free delivery to England and Wales on all orders over £70 + VAT and with thresholds of £145 (excluding VAT) for Central Scotland and £160 (excluding VAT) for the Highlands.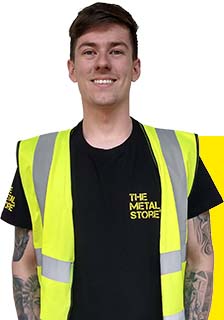 If you're not sure what you need,
then we're just a call away