L Section Safety Edging
Mild Steel
L Section
Safety Edging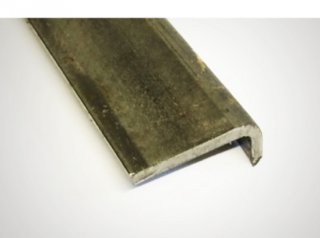 Discounts:
Make bigger savings the more you buy. Savings are applied automatically in your basket.
Full discount details
Mild Steel L Section Safety Edging Section: this product can be fitted to perforated sheet and weld mesh.
Mild Steel L sections have been specially produced for framing mild steel perforated sheet and weld mesh. Just two L sections only can frame these sheets easily and cheaply. There is less metal in the L sections than in U sections so they are more economical and are lighter. With the L sections the fabrication of framed panels is easier and therefore cheaper. The complete frame is welded together with mitred corners and the mesh placed in position and welded at intervals; all welding is inside the panel. There is no need for sliding the mesh into a gap and clenching; because there is no gap this enables protective finishes such as galvanising, paint or plastic coating to achieve total coverage. The L sections can be used wherever the framed panel is to be bolted to a structure with the rear face of the framing concealed.
Click here to see our range of mild steel perforated sheet

Click here to see our range of mild steel weld mesh
Discounts
The Metal Store is pleased to offer discounts on the following amounts (ex VAT). All discounts are automatically applied at checkout.
2.5% off orders over £250 + vat
5% off orders over £500 + vat
7.5% off orders over £750 + vat
10% off orders over £1,000 + vat
12.5% off orders over £2,000 + vat
15% off orders over £3,000 + vat
If you're not sure what you need,
then we're just a call away
01274 875479