Reinforcing Bar (Rebar)
Mild Steel Rebar

Reinforcing Bar

UK Stockist & Supplier
Discounts: Make bigger savings the more you buy. Savings are applied automatically in your basket.
Save time and let our expert team put together your quotation for FREE.
Get a FREE Quote
100% FREE
custom cutting – no hidden costs
Reliable suppliers of mild steel reinforcement bar
With a wealth of knowledge and experience alongside high-quality products, The Metal Store is a reliable UK stockist of mild steel reinforcement bar. In addition to having the right products for your project, we also offer quick 1-2 day delivery and free unlimited cutting services. Buy your reinforced steel bar online today or give our team a call to discuss your options.
Mild steel reinforcement bar grades
Also known as rebar, reinforced bar is a highly durable product which is typically used in the building trade for adding stability to concrete. Casting mild steel reinforcement bars into footings ahead of pouring fresh concrete vastly improves the structure's tensile strength.
Rebar has visible indentations on its surface. These help the reinforcing bar to bind mechanically with the concrete when casted, thus reducing the risk of slippage. Alternatively, the rebar can be locked around the concrete and other steel sections by being bent and hooked at the ends.
Choose your rebar dimensions
This versatile and hardwearing product is available in a number of diameters and lengths. Which ensures its ability to be utilised in a number of settings.
At The Metal Store we have a wide range of mild steel rebar available in 8mm, 10mm, 12mm, 16mm, 20mm, and 25mm diameter pieces which are supplied in 3m or 6m lengths. This plethora of sizes ensures you have the perfect starting point for getting the correct size bar for you project.
However, if those two lengths don't work we also offer a free unlimited cutting service designed to leave you with the perfect materials for your job. Our state-of-the-art band saw is able to make quick, precise work of the rebar, so you don't have to worry about painstakingly chopping it down yourself on-site.
Your go-to rebar supplier
Our friendly, helpful and knowledgeable team are waiting to assist you with all your mild steel reinforcement bar requirements. Orders over £70 get free delivery to England and Wales, with a threshold of £145 for central Scotland and £160 for the Highlands.
Purchase online or by phone on 01274 875479. Alternatively, you can drop us an email on [email protected] with any questions.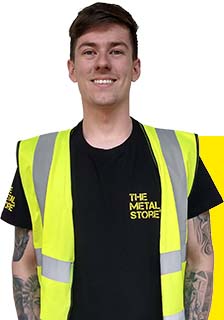 If you're not sure what you need,
then we're just a call away