There's no denying that galvanised tubes and clamps can be put to use in far more projects than many people realise. At The Metal Store we've created a whole load of Tube & Clamp Kits that customers can buy and easily put together themselves in their garden, around the house or when out and about at work.
However, it's when our amazing customers start to put their imagination to the test that we really see some fantastic examples of the true versatility that our metalwork products can show.
Emmerdale
As a company that's proud of our Yorkshire heritage it was brilliant to be contacted recently by our favourite TV show and the UK's leading soap opera, Emmerdale. First broadcast in 1972 (some of us are old enough to remember that far back!) Emmerdale has been a mainstay of the British public's viewing schedule. We think that part of the show's success has been down to never standing still and always looking for change, whether that's to characters or the locations they live in.
This quest for giving the Great British public something new and exciting has been expertly demonstrated by the design team at Emmerdale in the creation of a new set on Emmerdale called The HIDE. This new location is a fabulous looking Bistro which will no doubt play host to many a drama and our eagle-eyed customers will spot that much of this new set has been built using our self-colour tubes and clamps. This versatile product is perfect when you're looking for a cool piece of urban chic and that's exactly what we were able to provide to match the creative vision of the Emmerdale team.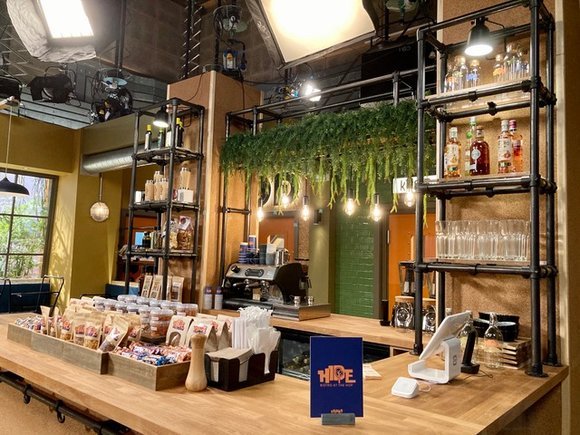 Credit: © ITV
Speaking about the project Gillian Slight, Head of Design, said:
"We chose The Metal Store's Key clamp product to feature in our new set on Emmerdale called The HIDE. We wanted to create a "cool, industrial look" and this product helped us to achieve this as a fantastic display unit. Not only did it look great but offered us versatility too. When purchasing set pieces, we try to source products from local firms wherever possible and The Metal store ticked this box! The Metal Store was also extremely efficient in delivering our order with proficiency and at such short notice. We were very pleased with the service we received and the product itself"
Gardeners world
It's not just from the inside of a TV studio that our products have generated a whole host of inspiration. For those of you with green fingers and a soft spot for Monty Don or Charlie Dimmock you'll know that metal can actually play a big part in making your garden the sanctuary it deserves to be.
One such episode of Gardeners World certainly inspired the horticultural hobbyists of the nation when Monty and the team used some 6mm mild steel round bar to create a set of amazing flower protectors. This width of round bar is nice and strong but also easy to manipulate into a variety of shapes and sizes. For those of you that are handy with a welder you can really go to town and sculpt something unique to you and your garden that's sure to have the neighbours peering with envy over the garden fence! However, if welding isn't your thing there's still plenty you can do.
Our round bar and weld mesh sheets also work perfectly together then you need to create wire cloches, tomato & fruit cages or anything that needs to be used to protect the base of your plants and trees. The beauty about this type of product is that you can be as delicate or as industrial as is required for the task at hand.
Ninja's in The Garden
Whilst this product didn't specifically feature on TV we can't deny that it's certainly been inspired by the global phenomenon that is Ninja Warrior and we can't resist once again sharing this amazing creation.
Designed and built by the very talented Sam Dunster at www.openshut.co.uk we just love the detail that's gone in to creating this unbelievable bit of kit. We're not sure if it was made for the little kids or the big kids in the family but it's definitely something that shows what you can do with some tubes, clamps and an active imagination.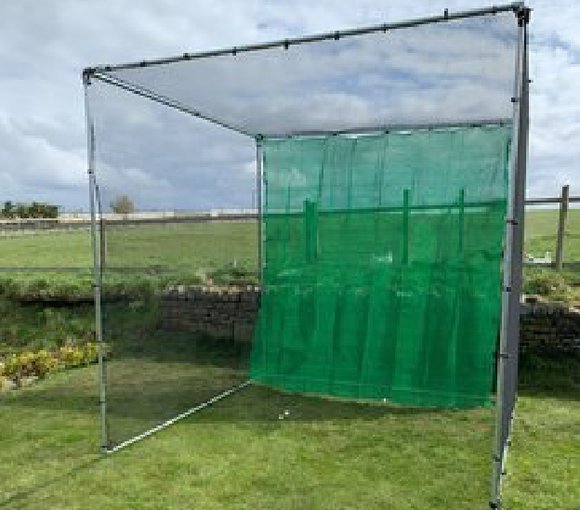 Credit: credit needed
Teeing up YouTube
They say that YouTube is the new TV and who are we to argue. Especially when the brilliant Lee Whittaker Golf created an awesome Vlog detailing the exact products and process behind his project to create his very own Golf Simulator. Central to his creation was tube and clamp purchased from The Metal Store and Lee has pulled together a really useful video on how he then added flooring and netting as well as the actual simulator itself. You can watch the video here.
So, if these products that were made for (and inspired by) TV have got your creative juices flowing then we'd love to help you turn your ideas in to reality.
For even more inspiration then why not head over to our image gallery to see what else you could be making. Who knows, it might just end up on TV too!
For help or for information, contact The Metal Store today.