Ladder Gates
Discounts: Make bigger savings the more you buy. Savings are applied automatically in your basket.
Buy scaffold tubes, fittings and accessories from one of the leading online UK suppliers.
Reversible Handrail Safety Gate
Our Reversible Handrail Safety Gate is made to hang from either the left or right side with integral toeboard protection. The gate comes fully electroplated before being powder-coated yellow for high visibility and spring loaded for added safety and efficiency.
Ladder Trap Door
The Metal Stores Ladder Trap Door is designed and engineered with safety and usability in mind. Our design offers a flush fit finish to mitigate potential trip hazards. Available in a High Visibility Red finish to help identify access points. Why not give our friendly team a call on 01274 875479 and see what other ranges we can supply.
Padded Scaffold Sleeving
Our Padded Scaffold Sleeving is used in conjunction with our Scaffolding tubes and fittings. It is suitable for both indoor and outdoor use and helps to prevent injury to pedestrians and your workforce.
The Padded Scaffold Sleeving is sold in single 2m lengths and is made from a lightweight foam/plastic.
Metal Scaffolding Board Ends
The Scaffold Board Ends are used on scaffold boards to prevent the ends of the timber from splitting. These metal board ends are also a great finishing touch to your DIY shelving or table projects. Made from galvanised steel, they measure 540mm in length and are completely weather resistant.
Flexities
The Flexitie is an elasticated toggle tie for scaffold sheeting which provides a secure & flexible fixing to your Scaffold Tubes. Sold in packs of 10, our flexities are not single use like cable ties and can be reused again for any projects you may have.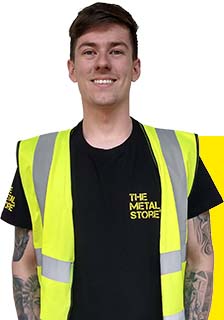 If you're not sure what you need,
then we're just a call away