Brass Splashback
Brass Kitchen Splashbacks

0.9mm Thick | Mill & Polished Finish
Discounts: Make bigger savings the more you buy. Savings are applied automatically in your basket.
Order your Bespoke Splashback using the splashback calculator.
Please note the price shown in the calculator includes free cutting.
We will not accept return of splashbacks as they are cut to your specification. Once cut we are unable to cancel the order even if it has not been dispatched. Terms & conditions apply.
Want to see how easy it is to build?
Get our handy 'How To Build' guide
Top-quality brass kitchen splashbacks, custom cut for you
Brass is growing in popularity as a practical yet aesthetically pleasing material in the kitchen. That's why we use our precision cutting techniques to create bespoke brass splashbacks just for you. We're one of the leading suppliers of brass kitchen splashbacks in the UK and we pride ourselves on delivering our products within 1-3 days of orders being placed.
All that glitters…
As a material, brass carries all the attraction and aesthetics of gold, but all the practicality and price tag of a much more affordable metal. As a splashback, it can add class and charisma to any kitchen it adorns, especially when created using the 0.9mm high-quality materials that The Metal Store favours.
All of the brass splashbacks supplied by us come with a protective layer of film over the finished side, ensuring they remain free from dirt or damage during the delivery process. This film can be easily peeled away after mounting your splashback and the reverse side is delivered unfinished for ease of installation.
Bespoke brass splashbacks
Thanks to our state-of-the-art equipment and years of experience, we're able to quickly and professionally cut a brass splashback panel to any size required, all the way up to a maximum of 1,000mm x 1,000mm. Corners and edges are protected with strong cardboard edging with added strength from a piece of rough sawn timber down the spine of the sheet.
You can even ask us to drill up to 12 holes in the panel, as well as specify whether you'd prefer a polished or mill finish and place multiple orders at once. Please be aware that once we have received and begun work on an order, it cannot be amended, cancelled or refunded.
Get down to brass tacks
What are you waiting for? Use our brass kitchen splashback calculator to place your bespoke order today. Our team will commence work right away and we aim to deliver all orders within 1-3 days.
If, on the other hand, you still have queries or concerns, you can call or drop us an email at [email protected] to speak to one of our staff. We'll be happy to answer any questions you might have.
Important Safety Notice: Please be aware that we do not finish, buff or polish the edges of the brass metal sheets we use when manufacturing our splashbacks. As a result, they may be very sharp and should be handled with extreme care.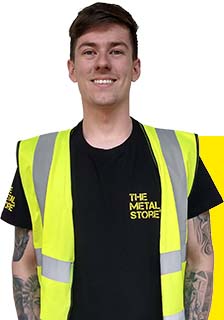 If you're not sure what you need,
then we're just a call away