We see some amazing self-build projects created out of the products we supply but every so often we are left gobsmacked by the brilliance of what our customers are creating. This was certainly the case when Nick Skuse kindly sent us some pictures of the Austin 7 Special that he painstakingly restored.
We were so impressed with what Nick created we wanted to find out more and Nick kindly answered some of our questions and gave an insight into the project.
What is your background? Do you work full time in the trade or are you a keen DIYer?
I was not sure I was ready for retirement - so as part of my retirement planning, I decided I needed a project to keep me properly occupied. Having been an engineering manager for most of my career I missed the 'hands on' engineering and fabrication aspects. As part of my naval training, back in the late 70's, there was a lot of hands on 'application' in the later parts of my course, but I have had very little opportunity to use the things I had learned.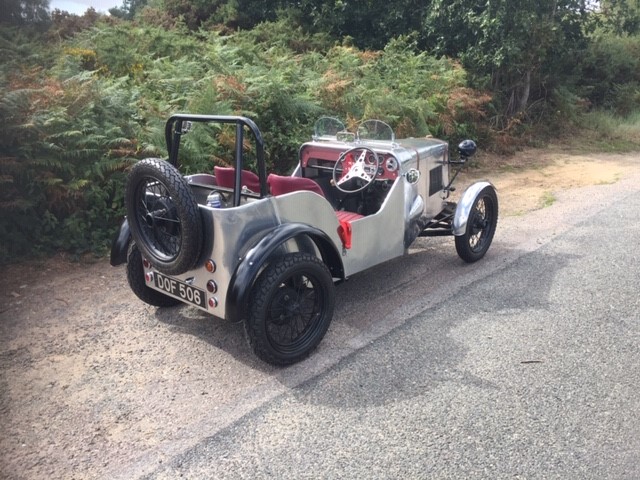 What was the inspiration behind the project and how much research went into the project?
In 1990's I built a Westfield kit, and a second Westfield was one of the options I considered, but by the time I had worked out my other constraint's an Austin 7 Special appealed.
It needed to take a significant amount of time (>2yrs) Note: The Coronavirus lock down gave me extra time in the shed!
I needed to be able to do most of the work myself.
Parts needed to be small enough I could handle/lift it within my garage/shed.
It needed to have a certain amount of 'design' and problem solving.
It needed to be 'fundable' from pension income, (and selling off parts I did not use).
I took some inspiration from John Haynes 'Building a '750' Special', L.M. (Bill) Williams 'Austin 7 Specials building maintenance and tuning' and various 'historic' Austin 7 specials.
Arthur Mallock, 'Bren' (EPG 171-1944) & 'Bomsk' (1947).
Colin Chapman, Lotus Mk1 (OX9292-1948).
Cambridge Engineering, various (1934 – 1963).
To give me a target, I decided that It needed to be 'road legal' but be eligible for trials especially VSCC trials, such as the Cotswold trial – an event I had watched as a youth.
With all that I wanted to add a couple of extra safety elements as I would like to use it on the road, which explains the rollover hoop and seat belts. One overriding rule was it had to be built in the spirit of a 1950s home build special, using as many of the car's original parts, bits I already had laying around and fabricating things myself with the tools and skills (or lack of) I had available.
Dobbie was a ARR Mk 2 Austin 7 Ruby first registered in May 1937 which I bought in Feb 2017. It was chosen as it was very complete, with a remarkably good chassis and came with a valid (though out of date) V5, this I hoped would make it easier to be road registered. The body was not in good shape - the floor had completely rotted out and the body was in very poor condition it had collapsed onto the chassis. I nicknamed her 'Dobbie' after Dobbie the house dwarf in the Harry Potter stories. As previously mentioned, it is a cross between a Cambridge and other specials, I drew up a couple of sketches to try and get a view of what I could realistically achieve.
When I removed the body, or what was left of it, I manufactured a simple wooden buck out of scrap timber I had lying around and mounted on the bare chassis. I then skinned with and corrugated cardboard to produce a mock-up, to see how it looked and then made several adjustments to try and get the proportions correct. In the end I opted for a fully steel tube/box section frame and aluminium skin.
Early on I decided that I wanted the body to be removeable in one piece using the existing chassis mounting points where possible. I wanted seatbelts and a rollover hoop, so the rear of the body frame needed to be quite substantial.
What have you got planned for future creations/projects?
I am at present negotiating with my wife on the follow-on project - perhaps a small restoration motorcycle or mini?
So there you have it! If you've got an interesting DIY job on the go or have created something a little bit special then we'd love to hear from you.
No matter how big, weird or wonderful, if you've got a project in the pipeline that you need any help with then the experienced team at The Metal Store are here to help however we can so feel free to call us today on 01274 875 479 or e-mail [email protected]