Does Autumn make you want to find new ways to get cosy at home? It's the perfect season for projects around the house, and the top DIY trends for Autumn are sure to inspire.
Industrial chic indoors
Industrial inspired looks are still popular with designers and homeowners alike. It's a trend that is very easy to do yourself and many projects can be built in a weekend. A mix of metal and wood makes it perfect for the living room, being both fashionable and homely. Galvanised tubes and clamps can be used to create a unique bookcase frame, sideboard, or end table.
What's great about DIY versions of this trend is that it's completely customisable. Your bespoke design can be made to fit perfectly in any space in your house. Rather than an out of the box flatpack shelving unit, you can easily create a metal tube shelving unit that will last and look fantastic.
It's possible to get a few different looks depending on how you choose to construct the furniture. Attach the tubing directly to planks of wood for a scaffolding style. Alternatively, you can use metal elbows to create a full metal frame, with more discreet wood or glass shelves. In both cases, you can change the look depending on what type of metal you choose, too. Galvanised steel, mild steel, and aluminium each give a different style. Metal tube can also be painted for even more variety.
It's worth noting that all of the clamp ranges that we offer are all suitable for indoor use too.
Great garden furniture
Although the nights might be getting longer, Autumn doesn't mean it's time to go indoors all the time. With cooler weather, you might find that you can get more use out of your garden with a new seating area. Galvanised tube construction is a great outdoor option that is both durable and attractive.
Create bench seating by joining metal tubes using elbow joints. Cut wood planks to size for seating and back cushions. Cover with foam and waterproof fabric for added comfort. This method can be used for both separate seats and a corner unit. For an L-shaped seating area, you can also add in a table in the corner for more convenience.
If you're looking to improve your fitness, or want a space for your kids to play, you can use tubing to build a climbing frame or pull-up bar. It can be made weather-resistant and sturdy enough to stand up to regular use for years to come.
Bedroom enhancements
If you're looking to snuggle up in bed as the weather gets chilly, you might want to think about some DIY projects to enhance your bedroom. Clearing clutter can help make your bedroom a much nicer space. Clothing rails and open storage are both great options for overflowing wardrobes.
A metal tube and clamp clothes rail is easy to build. You can get a kit to build one or design your own. The big benefit of this type of clothes rail is that it's strong enough to hold all your clothes. You don't need to worry about a sagging, stressed rail when you've used a sturdy galvanised metal tube and clamps.
Open shelving can be built to suit your space. Metal construction offers a beautiful contrast to the soft materials usually found in the bedroom. Soft baskets can be used to give a further decorative touch. Tie the look together with metal tube curtain rails and matching nightstands.
Practical improvements
DIY projects don't always have to be decorative, of course. With Winter just around the corner, you might be concerned about ensuring the access and mobility of your loved ones. Galvanised metal tube and clamps can be used to create grip rails along walkways both indoors and out. The tubes can be cut to any size and there are a wide variety of elbows and clamps that make it possible to fit even the most awkward spaces.
While grip rails are very helpful outdoors for getting up stairs, slippery paths, and sloping gardens, they can also offer help indoors. Installing railings around the house can offer stability and help in corridors, bedrooms, bathrooms, and kitchens. Mixed with other metal tube DIY projects, these railings can be functional and serve as decorative features.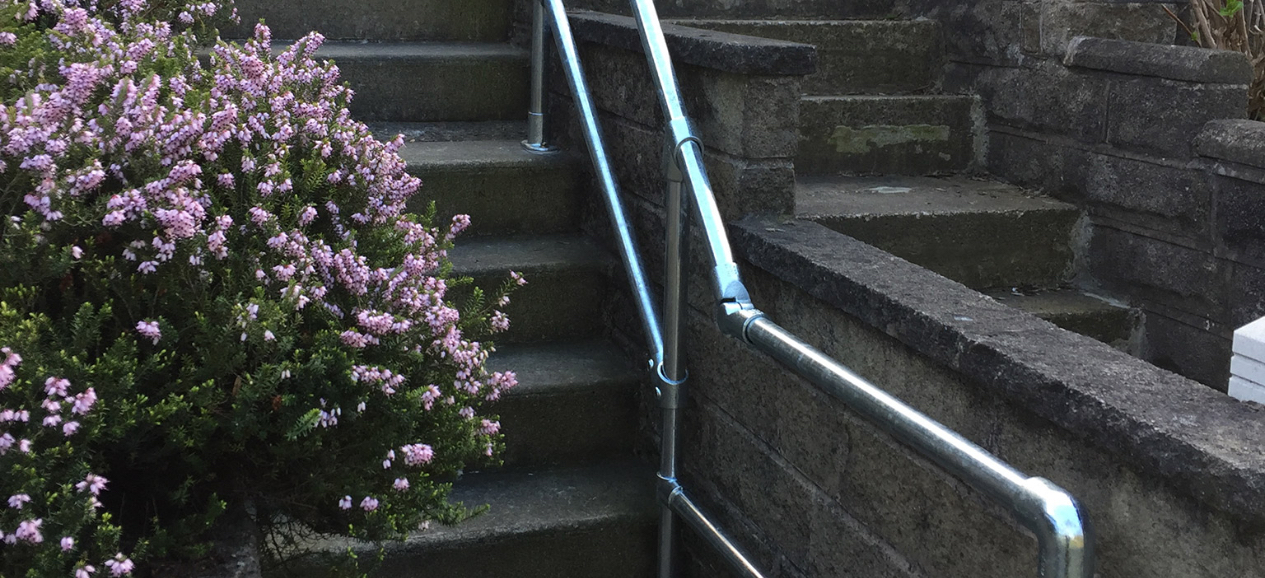 Before you start any DIY project, the most important step is getting the right materials. Metal tube and clamp construction is a great option and galvanised tube can be ordered cut to size or as part of a kit. Even if you're new to DIY, you can create a really stunning feature for your home.
For more information, contact The Metal Store today.