Roof-Edge Protection Systems
Roof-Edge Protection Systems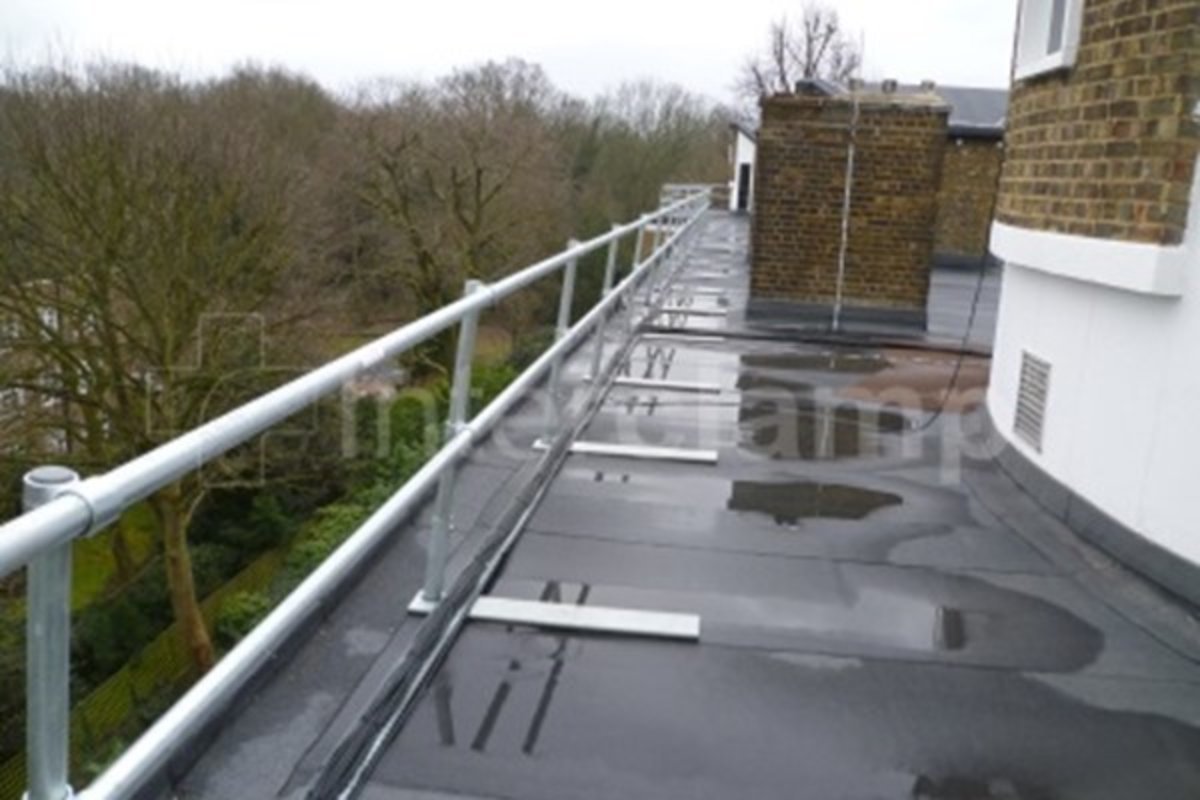 Discounts: Make bigger savings the more you buy. Savings are applied automatically in your basket.
Roof-Edge Protection System
The Metal Store now supplies the Freestand system of freestanding handrails, a great solution for flat roof edge protection or for designation of access and escape routes.
Roof-Edge Protection
Interclamp RoofRail is a modular system of freestanding handrails for fall prevention on roof perimeters and the designation of access ways for maintenance personnel and fire escapes on roof tops, suitable for both retrofit and new build. As RoofRail is non-penetrative, it eliminates the risk of leaks associated with traditional systems which penetrate the roof membrane, thus alleviating the need for weatherproofing around posts and minimising installation risks, lead-times and costs. The system is low-profile, sliding easily beneath existing rooftop obstructions and providing minimal trip hazard once installed. Where required to meet regulations, a kickplate/toeboard is offered. Following the implementation of BS 13700 in July 2021 for permanent installations of counterweighted guardrail systems, we have temporarily withdrawn the sale of Interclamp RoofRail from the UK market for applications where the system is intended to be left in place permanently. This withdrawal period is to allow us to assess the implications of the new British Standard on the design, performance, testing, marking, installation, and ongoing inspection of the system. It should be noted that BS 13700 does not apply to temporary counterweighted guardrails, which continue to be covered by BS EN 13374:2013 Class A (Temporary Edge Protection Systems), a standard against which RoofRail has been successfully independently tested in Great Britain by a UKAS-accredited laboratory. BS 13700 also does not apply to guardrails that penetrate the structure and secure to the substrate and warning chains/posts used for demarcation. For permanent installations outside the UK, please contact us with your specification or relevant national or European standard, so that we can assess suitability for your application. RoofRail is hot-dip galvanised to BS EN ISO 1461:2009 as standard and is also available with optional powder coating in a choice of colours, applied over the galvanised steel to ensure the longevity of the system and its coating. The flat base plates have ribbed rubber mats bonded to the underside which include an EPDM foam infill. This foam infill reduces heat transfer to the roof in order to reduce potential membrane degradation. RoofRail is adjustable by up to 250mm in height and is levelled to the line of the building and against the falls of the roof to optimise aesthetics from ground level. It can be installed in reverse for unobstructed walkways and can be terminated by Interclamp wall fixings, 2m return ends, or suitable counterweights. For new asphalt roofs, please seek advice from your asphalt supplier or manufacturer, as tiles may be required under the base assemblies to prevent the system from sinking into the softer surface. Heavier duty fixed rails can be designed to meet most loads and comply with BS 6180. Interclamp previously marketed RoofRail-type systems designed to prevent roof-top falls under the Easyguard name. As an alternative to the RoofRail free-standing system, Interclamp also offers roof-edge protection fixed to either vertical or horizontal faces of parapet walls or upstands, dependent on client preferences
To obtain a quotation please email us on
[email protected]
Your email should include the following details: • Your name
• Company name
• Telephone number
• Email address
• Installation/site address
• Your requirements
• Date required
• Plans/Drawing/Sketch. This must include metric dimensions, lengths, turns and gradients. Please make sure that the total length of the roof edge that needs to be protected is measured and include any turns or changes in elevation.
We only supply and do not install the systems and installation should be undertaken by qualified and trained personnel only. The Metal Store will not accept any liability and fitting is entirely at your own risk.
Important: We are unable to accept returns of the roofedge protection systems as these products are designed on a individual project basis. Please see our terms and conditions for full details.
If you're not sure what you need,
then we're just a call away